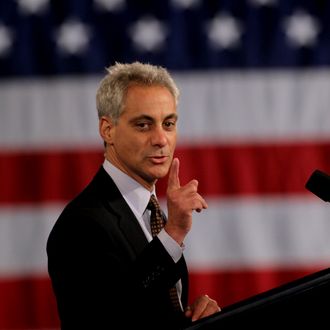 Photo: Scott Olson/Getty Images
Rahm Emanuel is considering entering the 2016 presidential race, but only if Hillary Clinton doesn't run. And he apparently hasn't told any of his friends. Lloyd Grove reports in the Daily Beast that two "highly placed" Democrats say that the Chicago mayor has been discussing a possible run with donors, "especially during the inauguration." Though the Chicago Sun-Times notes that while Emanuel was President Obama's chief of staff he insisted he wasn't running for mayor, the response from Emanuel's office and several friends was positively Shermanesque.
Per the Daily Beast:
Tarah Cooper emailed denying that the mayor "raised or entertained" the subject of a White House run. She also sent a photo of Emanuel's scrawl on yellow legal paper vowing "not ever" to run "for another office" and reiterated his longstanding pledge that, in his words, he's "not interested. Not going to do it. No. I'll do it in Hebrew: lo."
Paul Begala and James Carville, two "highly placed" Democrats who were willing to go on the record, said that while there's been chatter about a possible run for some time, this is the first they've heard of the mayor entertaining the idea. "I talk to Rahm almost every single day, sometimes more than once a day, and he's never said anything like that to me," said Begala.
Though it wasn't exactly a denial, Emanuel confidant Bill Daley, who was Emanuel's successor as White House chief of staff, made the most convincing argument: "I'd be surprised if he'd be stupid enough to actually say something like that to people."