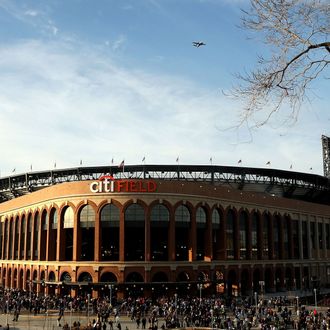 Citi, pre-Amway store.
Photo: Ezra Shaw/Getty Images
Last night, Capital New York writer and notorious Mets gadfly Howard Megdal came up with quite the scoop, one he appears to have garnered simply by being the only reporter who has looked at Citi Field since Saturday: Amway, of all freaking places, has moved into a storefront at Citi Field, just "a few feet away from a Mets ticket booth." (Here's what the storefront looks like.) This is one of the most baffling Mets stories since we've started writing about the team. The Mets aren't talking, so we thought maybe you'd walk through it with us, so we can try to understand what in the hell is going on.
Let's suss out all of the strange aspects to this.
1. Of all the businesses in the world for the Mets to associate themselves with, they chose one that has been sued for being a pyramid scheme. There are so many shady corporations in the world to do business with. You could pick one with ties to insider trading or the subprime lending crisis. One that pollutes the environment. One profiting off third-world child labor. So many options! But nope — the Mets decided to have a big sign on the side of their stadium with the name of a company that settled a class-action lawsuit for $155 million that claimed it was "a pyramid scheme in which distributors rarely sell products to outside customers, only to other new distributors they bring in, who must bring more recruits in to make money." The Mets couldn't have picked a stranger corporate partner if they had decided to sign a deal with a gardening company that happened to be called Madoff Landscapers.
2. Amway doesn't even have stores. Seriously: This is the first Amway storefront in the United States. (They have one in London.) Amway's site says, "Credible Opportunity Messaging greets all IBOs and their prospects as soon as they walk in the door," which is going to be quite a surprise for any sauced Mets fans who stumble in thinking it's McFadden's. Let's think about this for a moment: Of all the places in the entire country Amway would decide to open up its first storefront, the company chose Citi Field. They could have picked the Mall of America. They could have picked the Atlantic City Boardwalk. They could have picked the Vegas Strip. Nope: They're in Citi freaking Field.
3. The Mets don't really have a lot of storefronts. Or, like, any. It's not like Citi Field is just riddled with businesses crawling all over each other to be a part of the Mets experience. Look at that picture again. Amway's the only one there. We didn't even know the Mets were selling storefront space in the first place. We are not sure which is worse: that the Mets would decide to make their first storefront business Amway, or that the Mets decided to start selling storefront space and the only business that had the slightest interest was, in fact, Amway.
It's insane, all of it. No matter the explanation — and again, the Mets aren't talking, and one probably shouldn't expect them to — one thing is clear, and eternal: The Mets are the Mets are the Mets are the Mets.