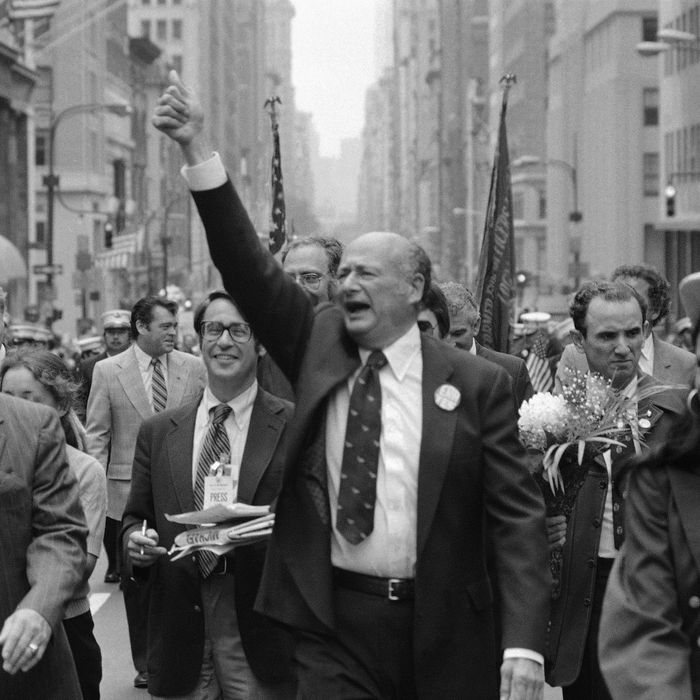 Edward I. Koch, three-term mayor of New York City from 1978 to 1989, died early Friday morning at age 88 of congestive heart failure.
Koch was born in the Bronx to Polish-Jewish immigrants in 1924. He served in Europe in World War II, and practiced law for two decades after returning home. Koch's political career began in 1963 when he upset a Democratic party boss in a race for district leader of Greenwich Village. He ascended to the City Council in 1966, and Congress in 1968, representing a liberal Manhattan district encompassing Greenwich Village and the Upper East Side. In 1977, with the city facing bankruptcy and $400 million deficit, Koch turned right and won his first term as mayor.
Cutting the budget and workforce, Koch was able to secure financing from banks, Albany, and Washington, and saved New York from an existential crisis. But the eighties were troublesome for other reasons: Koch was criticized for not doing enough to combat the twin scourges of crack and AIDS that ravaged the city's minorities. Author and gay activist Larry Kramer told New York in 1992 that, when he would run into Koch in his building's lobby, Kramer would loudly tell his dog, "There's the man who murdered all of Daddy's friends."
Through it all, the bachelor mayor was dogged by accusations that he was secretly gay. "Vote for Cuomo, not the homo" placards sprouted up in 1977 when Koch ran against Mario Cuomo for mayor. In 1989, Koch said for the first time he was heterosexual, but that didn't end the speculation about his private life.
Koch was a frequent subject of, and contributor to, New York magazine. In 1988, he told his life story in first-person. As for the gay rumors:
Listen, there's no question that some New Yorkers think I'm gay, and voted for me nevertheless. The vast majority don't care, and others don't think I am. And I don't give a shit either way! What do I care?
Tense race relations were a feature of Koch's tenure. In 1981, the magazine suggested the newly reelected mayor tone himself down to win over black New Yorkers. In 1985, Michael Kramer reflected on the rift between blacks and Jews that Koch at times seemed to exacerbate. In 1990, the magazine profiled the post-mayoralty life of "Citizen Koch." In 2011, Chris Smith and a panel agreed that Koch's first term was markedly better than his next two.
In 2008, Koch and Mayor Bloomberg talked about their very different challenges upon taking office — a wrecked economy, a post-9/11 world — and their shared viewpoint as leaders of the Big Apple. Reflecting on the differences between himself and Koch, Mayor Bloomberg said:
People want a genuineness. I think it's useful, also, to be a character. Ed was better at that than I am. I tend to not be as expansive.
In 2010, Koch talked about his "last hurrah," a PAC designed to pressure Albany legislators. Koch also wrote a column for New York for a few years, in which he and then-senator Al D'Amato discussed politics over lunch. Mark Green joined them for a while.
In its obituary, the New York Times calls Koch "as opinionated as a Flatbush cabby, as loud as the scrums on 42nd Street, as pugnacious as a West Side reform Democrat mother." At BuzzFeed, Ben Smith refers to Koch as New York's "mayor and its mascot." The Wall Street Journal says that, in his later years, Koch "attained the status of a cranky but beloved elder statesman whom no one could accuse of not loving the city he dominated for a dozen years."
Koch reflected on his life for the Times' "Last Word" series. As the video opens, he asks, "Do you miss me?"
Etched on Koch's gravestone is the prayer, "Hear O Israel, the Lord our God, the Lord is One," and the last words of murdered reporter Daniel Pearl, "My father is Jewish. My mother is Jewish. I am Jewish."
In a bit of amazing timing, a biographical documentary on Koch — called Koch — opens today.