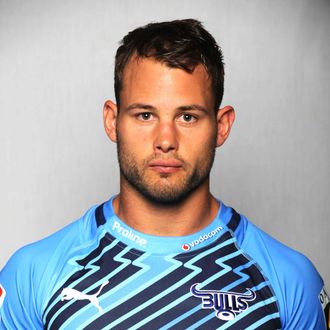 Francois Hougaard.
Photo: Getty Images
While Oscar Pistorius's blood is tested for steroids — which can famously lead to episodes of "roid rage" — investigators are also reportedly looking into texts and social media clues as they hunt for a motive in the killing of model Reeva Steenkamp. According to South African newspaper Die Burger, Steenkamp received a text message on the night of her death from "hunky" rugby player Francois Hougaard. Hougaard and Steenkamp had reportedly dated once, and remained friends.
The Telegraph reports that, in addition to the aforementioned text message, "the South African Times cited sources close to the police investigation as saying that social media messages including ones from Mr Hougaard might form part of the prosecution's evidence at Mr Pistorius' bail hearing at the Pretoria Central Magistrates on Tuesday." An iPad was found on the floor of Pistorius's bedroom the night of the murder.
Last week, Hougaard's agent said her client "will not answer any questions regarding Reeva Steenkemp or Oscar Pistorius at this stage as this is still an ongoing investigation and this whole sad ordeal has got nothing to do with him."
Oddly enough, the Hougaard connection started to gain traction thanks to a tweet by Nelson Mandela's assistant.