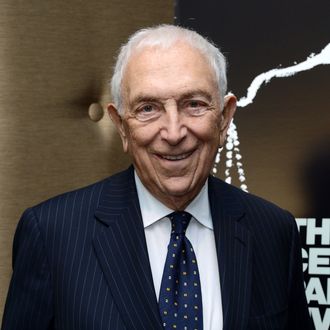 Photo: Jason Kempin/Getty Images
Five-term New Jersey Senator Frank Lautenberg will not seek reelection next year, the Star-Ledger reports, and somewhere, Cory Booker does a little dance before crafting a gracious tweet. The Newark mayor has not been shy about his interest in the Senate seat, despite it not quite being unoccupied, leading to a terse, generational war of words, but also the most obvious conclusion. Lautenberg is 89 years old and was probably going to retire anyway before Booker got a little overeager.
"I am not announcing the end of anything. I am announcing the beginning of a two-year mission to pass new gun safety laws, protect children from toxic chemicals and create more opportunities for working families in New Jersey," said Lautenberg. "While I may not be seeking re-election, there is plenty of work to do before the end of this term and I'm going to keep fighting as hard as ever for the people of New Jersey in the U.S. Senate." He's expected to make an official statement tomorrow.
While still gruff, it's a change of tone from the last few months: "I have four children, I love each one of them. I can't tell you that one of them wasn't occasionally disrespectful, so I gave them a spanking and everything was okay," the old-timer said in reference to Booker recently. "I'm going to finish the work I'm doing," he added later. "And he should finish the work he is doing instead of traipsing around the country." Expect a few more sick burns before his term is up.
According to the Star-Ledger, Lautenberg's announcement "is likely to set off a fierce primary battle as Democrats … jockey for the rare open seat," but knowing Booker, he's unconcerned.