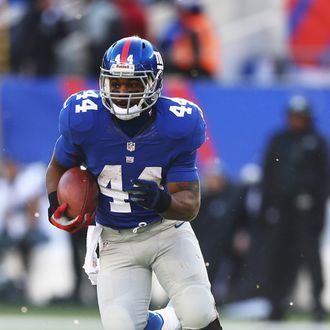 Ahmad Bradshaw.
Photo: Al Bello/Getty Images
So the Giants released running back Ahmad Bradshaw today, though it's hard to label the move a total surprise, considering that Bradshaw himself had sort of seen this coming and had said so out loud. He'd talked about how he was uncertain about his future with the team, and just this past weekend, after revealing he'd had another surgery on his right foot, he admitted that while wasn't he necessarily concerned, "there's always that chance of me not being there next year."
The Giants needed to cut payroll to get under the projected salary cap for next season, and Bradshaw was set to make $3.75 million in 2013. (They also released defensive tackle Chris Canty today.) Bradshaw, who won't turn 27 until next month, had seen his role grow in recent seasons. Once a part of the three-headed "Earth, Wind, and Fire" rushing attack, he entered this season as the team's undisputed lead running back after the departure of Brandon Jacobs. In fourteen games, he ran for six touchdowns in 2012 and topped 1,000 yards for the second time in his career.
Bradshaw, of course, has also dealt with injury issues in recent years. (Last weekend, the Daily News used the phrase "plenty of surgeries" to describe his history of going under the knife. This is not a phrase an NFL running back wants to be associated with.) His last procedure replaced a screw that had been previously inserted into his right foot with a larger screw, after an attempt to heal the foot with a stem-cell procedure didn't work as well as he'd hoped. (No part of that sentence is good news for an NFL running back, either.)
Bradshaw, meanwhile, said he's not discouraged by the move. Because, again, he was expecting it. Via ESPN New York:
"I saw it coming because of the money," Bradshaw told ESPN's Josina Anderson. "Everything is about money I guess, so yes I was expecting it. I'm not discouraged at all. I'm just looking towards getting healthy and working with somebody else. That is all I can do. The Giants fans will always be remembered and always be loved. This is where I started and I just want to thank everybody for their support. Hopefully I'll be back soon."
As for the Giants, they now have to hope that David Wilson and Andre Brown are ready for prime time.