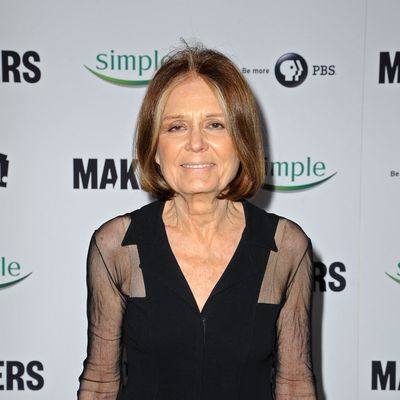 Photo: Dave Kotinsky/Getty Images
Despite having supported her, Gloria Steinem didn't really think Hillary Clinton had a shot at the presidency. "I never thought in 2008 that it was possible for any woman to win," Steinem told us at the premiere of the PBS feminist documentary Makers: Women Who Make America at Lincoln Center last night. But that was then.
Now Steinem believes that the former secretary of State could become the first female president (if she runs in 2016, that is). "I don't think we know whether she wants to do it, but if she should decide to run, she could win," Steinem said. "At this point, I think she herself has been such an example of a woman in high leadership that now people can imagine it. By her own example, by both her toughness and her grace, and her intelligence and her hanging-in-there — in the primaries and in the presidential race, and also as secretary of State — I think she's created her own possibilities."
Steinem pointed to Clinton's diplomatic initiatives on behalf of women — creating the first Office of Global Women's Issues, campaigning for the rights of women and girls in emerging countries, fighting against human trafficking — and said she has "included the female half of the world, a first. It's been compared to the Marshall Plan."
"I think she understands that the biggest determinant of whether a country is peaceful or militaristic is not poverty, is not degree of democracy, or religion, it's violence against females," Steinem said. "Because that normalizes everything else. If that's okay, then you suddenly think in terms of subject/object, conqueror/conquered."
Still, sexism itself has to be battled for a Clinton candidacy — and it's a problem by which she was plagued the last time she ran. It might have abated a bit while she championed America's interests around the world, and now it's back again (thanks, Fox News) when it looks as if she might be considering a run for the nation's highest office. "Because we're raised by women," Steinem said, "we associate female authority with childhood. Men feel regressed by it, because the last time they saw a powerful woman, they were 6 or 8 or something." But Steinem doesn't anticipate this being as major a problem in the next political cycle. A girl can dream.