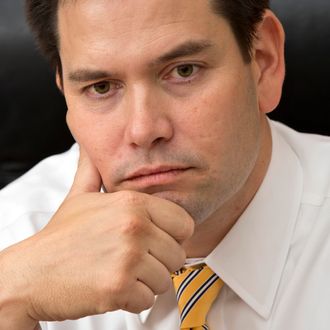 Marco Rubio was the loudest critic of the immigration plan leaked by the White House this weekend, and on Tuesday the attacks continued, with Rubio's office insisting that the Obama administration has never reached out to discuss immigration. Rubio can't look like he's working too closely with the White House if he wants to eventually sell his plan to fellow Republicans, but he might have complained a bit too much. After more bickering between the White House and Rubio staffers about Obama's alleged lack of involvement, the president ended the day by calling each Republican in the Senate's bipartisan "Gang of Eight" to discuss where they stand on immigration.
The White House said that in the calls to Rubio, Lindsey Graham, and John McCain, the president "thanked the Senators for their leadership," but made it clear that "he is prepared to submit his own legislation if Congress fails to act." Following the call, Rubio changed his tune. His spokesman clarified that a representative from the senator's office has participated in five meetings with White House officials, and said, "The Senator told the President that he feels good about the ongoing negotiations in the Senate, and is hopeful the final product is something that can pass the Senate with strong bipartisan support."
Despite the public posturing, the Associated Press reports that Senate aides say negotiations are going well, and Obama's backup plan might even encourage Republicans to rally around the congressional plan. It's possible that was the whole point of floating parts of the president's blueprint, though the White House insists the leak was unintentional.
Lawmakers have suggested that their bill might be ready as early as next month, and Obama hasn't set a deadline for when he'll send his own plan to Capitol Hill. Other events on Tuesday suggest that for some Republicans, dealing with the White House won't be the toughest part of the process. McCain held two town hall events in Arizona and was confronted by crowds of constituents who are furious about plans for immigration reform. This local news report provides some insight into the reaction Republican lawmakers might get from their base, and why McCain seems increasingly crotchety.