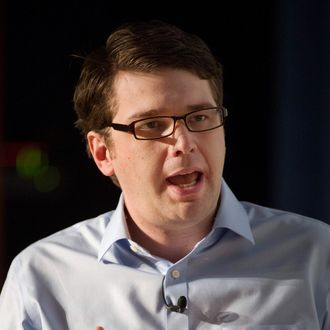 Photo: David Paul Morris/Bloomberg via Getty Images
It turns out that presiding over one of the biggest dot-com disappointments of recent years isn't a good career move. Andrew Mason, the founder and CEO of Groupon, was given the boot by his board today, the day after the daily-deals company posted another quarter of underwhelming revenue.
Mason, a quirky CEO who was known for posing as a cat lover and drinking beer in company meetings, announced his departure with an admirably candid resignation letter, which began: "After four and a half intense and wonderful years as CEO of Groupon, I've decided that I'd like to spend more time with my family. Just kidding - I was fired today."
Although Groupon's stock jumped on the news, Mason's departure was widely anticipated. Groupon has been in consistent trouble since shortly after it went public, with some fuzzy accounting metrics and a stock price that has slid to $4.53, or less than one quarter of its $20 IPO price. Its transition from a coupons site to a full-fledged e-commerce site has taken longer than expected, and its efforts to spread Groupons to foreign countries haven't gone as smoothly as planned.
But in truth, despite his eccentricities, Mason may not be the real problem at Groupon. A considerable obstacle has been — and continues to be — the daily-deals business model. As Matt Zeitlin has argued, the problem is that deal-seekers are inclined to keep pursuing the lowest prices available, and jumping from establishment to establishment, meaning that "merchants offer a deal, sometimes at a loss, but then get little future business." That same problem has likely hurt fellow deals site LivingSocial, which is having some financial issues of its own. And it's why Groupon has been subtly seeking other ways of making money — like its newer Groupon Goods category, which offers deals on actual products held in inventory by Groupon.
Mason's resignation letter nods to all of these challenges and says that "it's time to give Groupon a relief valve from the public noise." He will be replaced on an interim basis by Groupon's executive chairman Eric Lefkofsky and vice chairman Ted Leonsis in a newly created "Office of the Chief Executive."

In departing, Mason also gave a final shout-out to Groupon's gamer nerds, saying, "I love Groupon, and I'm terribly proud of what we've created. I'm OK with having failed at this part of the journey. If Groupon was Battletoads, it would be like I made it all the way to the Terra Tubes without dying on my first ever play through."