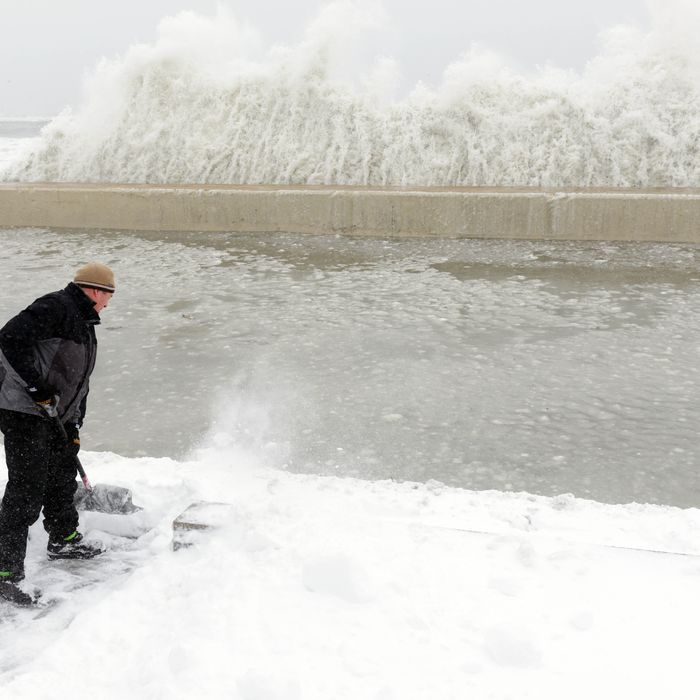 Winthrop, Massachusetts on Saturday morning.
Photo: Darren McCollester/2013 Getty Images
As was predicted, a big snowstorm ("Nemo" to some) hit the Northeast on Friday night. Snow was still coming down in some places as of Saturday morning, and 99 percent of the region is now covered in the stuff. Southeastern Massachusetts, Rhode Island, and New Hampshire saw the most, with snowfall totals of two feet in some places. (Milford, Connecticut came in with 38 inches.) The snow will continue to fall throughout much of the day in parts of New England. If you're in the area and able to read this, consider yourself lucky: About 650,000 people (mostly in Massachusetts and Rhode Island) are without power. At least five deaths — three of them in Canada — have been blamed on the weather so far.
Boston's Logan International Airport (which, at the peak of the storm, recorded 76-m.p.h. winds) remains closed, and the travel ban imposed by Massachusetts Governor Deval Patrick on Friday is still in effect. As of Saturday morning, non-emergency vehicles have been ordered off the road, and train and bus service will be suspended throughout the day. The National Guard is headed to some of the state's coastal communities to evacuate people threatened by the "giant waves" created by the storm. Connecticut Governor Dannel Malloy and Rhode Island Governor Lincoln Chafee have also told residents not to drive until further notice. Malloy said that rescue workers were still digging people out of stranded cars across the state, and that some had to be treated for hypothermia. Similar situations were reported in Maine.
New York emerged from the storm relatively unscathed, with 11.4 inches of snow falling on the city overnight. There was some trouble on Long Island, where around 10,000 people lost power and several hundred cars got stuck on a six-mile stretch of the Long Island Expressway. "I've never seen anything like this," said Suffolk County resident Steve Bellone, whose car was trapped by the downfall. "Snow came so hard and fast, it just swallowed people up." While some drivers abandoned their cars, many were forced to stay inside them overnight. As of early Saturday afternoon, vehicles were still strewn across the road as people waited for help from snow plows and the National Guard. Governor Cuomo did not offer details about the situation, though he did urge Long Islanders to "stay home please unless you have urgent business to be out on the roads."
Meanwhile, in the city, Mayor Bloomberg concluded that things were "in great shape," and said that most roads would be clear by the end of the day. "I think it is fair to say we were very lucky," he said during a morning press conference. Traffic on the city's busiest streets is flowing normally, and the three major airports have resumed limited service. Subways and buses are running with some delays, and the Metro-North started up again at 11 a.m. The LIRR is operating with limited service. And, of course, the Amtrak line between New York and Boston is closed until further notice.
This post has been updated throughout.