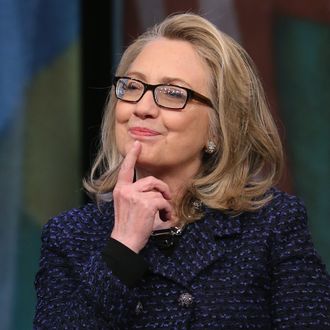 Hillary Clinton being coy.
Photo: Chip Somodevilla/Getty Images
Will Hillary Clinton run for president again? It's the single most salient question surrounding the 2016 race, and will continue to be so until Clinton either announces her candidacy or definitively, decisively rules out a final campaign for the White House. Because — her claims to the contrary notwithstanding — Clinton's repudiations of another run have always contained subtle qualifiers, implied dates of expiration, or other means of leaving the door ajar.

With Clinton moving on to her next chapter today, we have compiled a comprehensive compendium of every time she has denied interest in another presidential campaign, and plotted each of her statements on a scale of Shermanesqueness. Click through on the bottom to view each entry chronologically, or pick a specific date. As you can see, though the relative adamancy of her rebuttals has waxed and waned over the course of over four years and nearly three dozens interviews, town halls, and press conferences, Clinton never quite reaches William Tecumseh Sherman territory.

In this space, over the coming months and years, we will continue to obsessively record and analyze each and every one of Clinton's declarations about her political future.