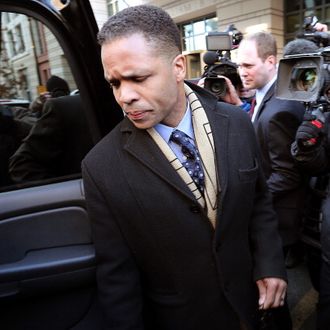 Former U.S. Rep. Jesse Jackson Jr., who pleaded guilty in a Washington, D.C. courtroom on Wednesday, never should have bought those elk heads. Of all the wacky things Jackson illegally spent his campaign's cash on, those are among the wackiest, and they were also his downfall. Weeping openly in court, Jackson admitted to spending $750,000 in campaign funds on everything from televisions to Rolex watches to fur capes. His verbatim plea: "Guilty, your honor. I misled the American people." He faces five years in prison when he's sentenced in June. "I fully understand the consequences of my actions," Jackson told the court. One of those actions: selling illegally purchased taxidermy to an undercover F.B.I. agent in August 2012.
Jackson bought the two elk heads in March 2011, the New York Times reports, paying $7,000 from a campaign account, and shipping the items to his congressional office. His wife, Sandi Jackson, who pleaded guilty to a single charge of willingly filing a false tax return, knew the taxidermy had been paid for with campaign funds, the Times reports, but she nonetheless asked a staffer to sell them and put the $5,300 they fetched into one of Jackson's personal accounts. The buyer was an F.B.I. investigator.
But the elk heads were just a small part of Jackson's spending. In addition to some high-priced luxury items reported in Chicagoist on Friday, such as a $43,000 Rolex, $22,700 worth of Michael Jackson memorabilia (including the King of Pop's fedora), and $5,150 worth of furs (including a mink parka and a fox parka), Jackson had a penchant for Build-A-Bear, prosecutors' documents revealed Wednesday. Per The Times:
On at least two instances, Mr. Jackson and his wife used campaign money at Build-A-Bear Workshop, a store where patrons can create stuffed animals. From December 2007 through December 2008, the Jacksons spent $313.89 on "stuffed animals and accessories for stuffed animals" from Build-A-Bear, according to the documents.
But even at those prices, it would take a lot of custom teddy bears to get to $750,000. As the Chicago Tribune explains, most of the spending went to bigger ticket items: "Prosecutors said $60,000 was spent on restaurants, nightclubs and lounges; $31,700 on personal airfare; $16,000 on sports clubs and lounges; $17,000 on tobacco shops; $5,800 on alcohol; $14,500 on dry cleaning; $8,000 on grocery stores and $6,000 at drug stores." That's a little more like it.