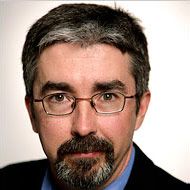 Photo: The New York TiMes
"Do shit you're not supposed to do." That's how Joe Sexton, who as New York Times sports editor has been behind some of the paper's most groundbreaking recent work, describes his guiding philosophy. On the front page of his section, he exploded Times conventions, running a panorama of Walden Pond at dusk, sideways across the fold, for a story on long-distance swimming, and teased an article on J. R. Smith with an arresting picture of the Knicks guard's densely tattooed body. ("Photos and interview, pages D4–5.") When no players made the Baseball Hall of Fame last month, a legacy of the game's steroid era, Sexton left the top three quarters of the page jarringly blank: "And the Inductees Are …" After NHL enforcer Derek Boogaard died at 28, he ran a three-part epic on the brain-damaged player. His cri de coeur, "Snow Fall," which integrated computer-animated displays into a multimedia megastory on a deadly avalanche, was heralded as the Way Forward for Serious Journalism.
For the Times, the future is about to leave the building.
On January 24, deadline day for the buyouts the paper offered as part of a companywide cost-cutting purge last month, Sexton announced he was leaving to take a new job at the nonprofit muckraking outfit ProPublica. Today is his last day at the paper. Executive editor Jill Abramson, for whom Sexton was a front-line lieutenant in her quest to reinvent the Times, says his departure makes her "very, very, very sad."
Sexton has never been predictable: A 53-year-old Brooklyn native and self-described punk with a salt-and-pepper goatee and an affinity for profanity (he was "fuckin' dubious" about this story, his first profile), he once lived in Ireland as an aspiring poet and later became the only white reporter at an all-black newspaper in New York called the City Sun. He's been at the Times since 1987, when his Cobble Hill landlord, then–deputy sports editor Lawrie Mifflin, hired him to cover the Islanders and later the Rangers and Mets, who lost 103 games while he was on the beat. "A lot of blood on the floor, which I rather enjoyed," he says. 
As he worked his way up at the Times, Sexton switched over to the metropolitan desk so he could stay closer to home and raise two daughters as a single father. The move didn't dull his ambition: He rose to a job editing sports and took over metro coverage in 2006, shepherding the creation of the City Room blog and helping produce two Pulitzers, one of them for coverage of Eliot Spitzer's "Client 9" scandal. Along the way, he had two more daughters, twins, with a Times photo editor.
Times culture has never produced an excess of radical thinking. With the upheavals of the digital age, though, restraint has become a luxury the paper can no longer afford. "The ways to have impact are to produce exclusive news, write memorable stories, and evince a sense of daring and fun," says Sexton. "And if that formula fails, then we're all in fucking trouble." "Snow Fall" was from the outset a Ruthian swing for the fences. But the idea of reinventing multimedia journalism around a tale of some backcountry skiers, and not, say, Syrian rebels, required some hard selling. "I had to think that through and come to peace with that," Abramson says.
The story, a 17,000-word, 360-degree exploration of a single avalanche in Washington, took six months for reporter John Branch (who also wrote the Boogaard series) and a dozen other staffers to complete. Presenting the finished product to the top editors, Sexton added a flourish. "I bought them all ski mittens and ski mufflers and hot chocolate," he recounts. "Without getting too fucking self-important or cocky, it's a pretty dramatic realization of an integrated online bit of storytelling." 
"Snow Fall" produced 3.5 million page views in the first ten days. "The world went fucking insane," Sexton says. For all the enthusiasm toward the project within the Times, though, the story will probably remain an outlier. During a postmortem held by Abramson, publisher Arthur Sulzberger Jr., and new Times CEO Mark Thompson, the executives discussed how often they could invest in a story of that scale. "My big fear," Abramson says, "is that every proposal I get now is going to be a pitch to do a 30,000-word piece with every kind of resource the newsroom can muster."
Soon after, Sexton found himself giving a presentation about the piece to the staff of ProPublica, which is overseen by former Timesman Stephen Engelberg. While Abramson was laid up sick at home on January 23, she got an e-mail from Sexton asking to see her right away. "Is this something horrible?" she wrote. "If you're going to work somewhere else, I'm staying home. Forever." Sexton told her that "the last decade as your loyal soldier will be the defining decade of my life." ("He's dramatic," says Abramson.) After pushing the Times to be more daring, Sexton felt the need to change things up in his own career. "If you are not asking yourself every couple of years how to once more scare yourself to death, then you are living something of the coward's life," he says. "Ain't no room for cowards in journalism at this moment in time."