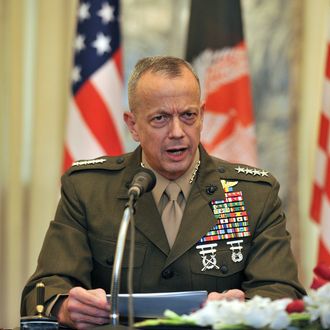 John Allen.
Photo: Massoud Hossaini/AFP/Getty Images
Four-star Major General John Allen, who up until a week ago had led the war in Afghanistan for nineteen months, has abruptly retired. Allen had been nominated by President Obama in October to take over as NATO's Supreme Allied Commander, but Allen's retirement from the military means he's no longer in contention for the post.
Allen was caught up in the Jill Kelley scandal last year when it was reported that he and Kelley had exchanged "inappropriate" and "flirtatious" e-mails, but he was cleared after an internal investigation, and insists that he's leaving the military to spend more time with his increasingly ill wife:
In an interview Sunday evening, Allen said he wants to focus on helping his wife, Kathy, cope with a combination of chronic health issues that include an autoimmune disorder.

"Right now, I've just got to get her well," Allen said. "It's time to take care of my family."

…. Allen said his wife's condition has been steadily deteriorating for a few years and has now reached a point where he believes it would have been problematic for her to receive the necessary medical authorization from the military to travel to Belgium, where NATO is based.
However, the Kelley e-mail affair may not be totally unrelated. Allen tells the Washington Post that the "investigation took a toll" on his wife.
In a statement, President Obama praised Allen as "one of America's finest military leaders, a true patriot, and a man I have come to respect greatly."
Of course, Allen's announcement will be met with skepticism by some — "I'm dropping out to spend time with my family" is, after all, classic politispeak for "something really embarrassing happened to me." And, indeed, NBC News reported last week that, according to "U.S. military officials," Allen "does not want to drag his family through a nomination process in which the emails would almost certainly come up." Ultimately, the only person who knows John Allen's motive is John Allen.