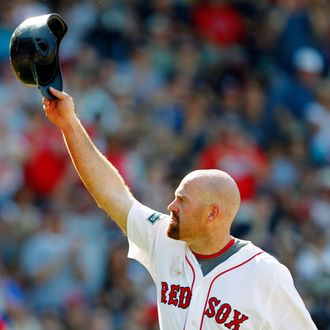 Kevin Youkilis.
Photo: Michael Dwyer/AP/Corbis
Back in December, we argued that it was okay for Yankees fans to cheer for former Red Sox infielder Kevin Youkilis now that he was, you know, a member of the Yankees. But not all fans were so quick to accept him. (See: the comments section of that post.) And now that Youkilis has arrived in Tampa for his first spring training as a Yankee, he's not off to a great start endearing himself to fans of his new team. Said Youkilis yesterday, in comments that inevitably landed him on today's back pages: "I'll always be a Red Sock."
Here's the full quote, via ESPN New York:
"I'll always be a Red Sock," Youkilis said. "To negate all the years I played for the Boston Red Sox, and all the tradition, you look at all the stuff I have piled up at my house and to say I'd just throw it out the window, it's not true.

"Those were great years in Boston. One bad half-year doesn't take away from all the great years I had there."
As you'd imagine, those comments caused something of a mini-controversy for a player whose acceptance by Yankees fans isn't guaranteed because he's so associated with the franchise's biggest rival. In a dull sports week, comments like Youkilis's were bound to become a Thing that the tabloids run with and that people talk about for a couple of days. Youkilis's new teammates even razzed him about the comments, and today he felt the need to clarify what he meant. Via the Post:
"The whole meaning about what I was trying to say was that when you play in Boston the back of your baseball card, that's how it is. After this year I will be a Yankee for life," Youkilis said. "Trust me, there was no way that was meant to say my heart is in Boston or anything like that. My heart is here with the Yankees."

Having played in Boston, Youkilis understands the media scrutiny and admitted him saying "I will always be a Red Sock" wasn't good.

"The one comment was bad, let's be honest. By itself it was terrible," Youkilis said. "That wasn't what it was meant to be. It wasn't mean to be my heart is in Boston. My heart is in New York and I am excited to be living in the city. I have moved on and I am excited to play against (Red Sox) on Opening Day. Trust me, if you know my personality, I want to beat everyone. I want to beat the Red Sox and start off with a win at Yankee Stadium."
For what it's worth, though, he really didn't need to clarify anything. Yes, the phrase "I'll always be a Red Sock" was a poor choice of words that can be taken out of context. But even Yankees fans understand that he was a big part of what the Red Sox have done over the last decade and that changing teams doesn't take away from that. He's allowed to look back fondly at what was a big part of his career — and his life, for that matter — and recognize his own place in Red Sox history. We might not want him to say that out loud right now since he's now a Yankee, but it's crazy to think it's not the case. He really didn't need to explicitly state that he wants to beat the Red Sox now, but in case you were wondering, he does. It's still okay to cheer for him. Really, it is.