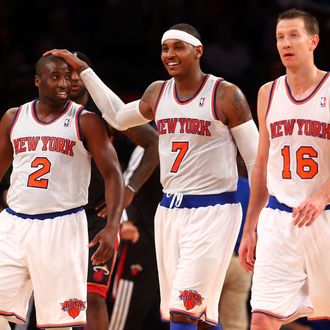 So happy, these Knicks.
Photo: Jim McIsaac/Getty Images
The last time the Knicks had a winning percentage of .667 or higher — winning two out of every three games — was 1997. It was Jeff Van Gundy's first year as coach, and he was in charge of the last embers of those Patrick Ewing teams, with Allan Houston and John Starks and Larry Johnson trying to squeeze out a championship that would never come. (That would be the third of fourth consecutive seasons the Knicks would lose in the Eastern Conference semifinals.) It has been a barren, Isiah-riddled landscape since then. Once Van Gundy's run petered out in 2001, the Knicks wouldn't win another playoff game until May 2012, last year, when they won only one. Today, after another easy win over the Detroit Pistons, the Knicks sit at 31–15, the fifth-best record in the NBA and only a half-game behind the Heat for the No. 1 seed in the Eastern Conference. The Knicks have won five in a row, and it's becoming obvious that this is the best Knicks team in a decade and a half. This is the fun part.
The key to the Knicks' success of late — they've opened up a 3 1/2 game lead on Brooklyn in their quest to win the Atlantic Division for the first time since 1994 — has been twofold. First, the schedule has loosened up; all of their five wins have been at home, with only two of them against teams with winning records. This is going to be the case for a while, actually; they only have three games against teams with winning records the rest of this month (the Clippers, Pacers, and Warriors), two of them at home. But the most encouraging aspect of the Knicks' current run is that, at last, almost everyone on the team is healthy, and they're all playing as one, together, in a way they haven't since they've been teammates.
Carmelo Anthony is of course still the centerpiece for everything the Knicks are doing — he's currently second in the NBA in scoring behind Kevin Durant, and sixth in PER, the highest ranking of his career in that category — but that has been the case all year. What's happening now is that everyone else is fitting together perfectly, and the best example of that is Amar'e Stoudemire. Knicks fans have spent most of the year fretting about Amar'e's return, thinking he would mess up the chemistry the rest of the team has developed, but not only has he bought in, he's made everyone better. The defense is still wobbly, if a little more determined, but the offense has been downright gorgeous to watch. Amar'e can't jump over people like he used to, but he's become a smarter, savvier offensive force, scoring essentially at will off the bench. He's 36–for–50 shooting in his last five games, and because he's playing mostly with the second unit, he's feasting on inferior defensive players. Along with J.R. Smith, Amar'e is making the Knicks almost as dangerous with Carmelo on the bench as they are when he isn't. And he and Carmelo are starting to develop some offensive chemistry together as well; Anthony's assist numbers don't show it, but he's passing better than at any point in his career.
Most of all: These Knicks are starting to get some goofy fun to them. The wackadoodle Smith is the primary mirth dispenser, amusingly air-balling a free throw last night and, in our favorite moment, trying to sneak into the kids' halftime game … and being ignored by everyone. Those are the sort of moments that pop up, all silly like, when your team is winning, when everyone is happy, when everything is humming along. The Knicks could conceivably be favored in every game they play this month and very well might be atop the Eastern Conference when they host the Heat on March 3. It has been a long road to this point, for fans, for players, for everyone involved with the Knicks. Things won't always be running this smoothly. But let there be no doubt: These are the good times.