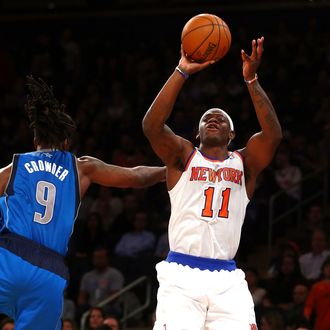 That shot always looked so weird.
Photo: Elsa/Getty Images
The trading deadline in the NBA passed about a half-hour ago, and for all the talk that big fish Hawks power forward Josh Smith would be moved, he will be staying in Atlanta. The Knicks and Nets, both teams rumored to be in on Smith and both eager to make improvements for the stretch run, were generally quiet. The Nets didn't do anything at all, and the Knicks actually got rid of a player, sending perpetually benched swingman Ronnie Brewer to the Oklahoma City Thunder. The draft pick will be a lousy one — very likely in the high 50s — but that's not why they made the trade; they made the trade to open up a roster spot.
That roster spot very well might be used on veteran Kenyon Martin, who is still unemployed and the sort of muscle underneath the Knicks could use. Plus: 2001–02 New Jersey Nets reunite! Somebody get Kerry Kittles on the phone!
Anyway: The Knicks are only one game ahead of the Nets for the Atlantic Division lead, and both teams are going to remain, the rest of the way, as they were. Good-bye, Ronnie Brewer. You scored 166 points for the Knicks but haven't been seen much in a while. We'll always have this.
We'll see you in the NBA Finals. [Coughs.]
(UPDATE: As we suspected, the Knicks just signed Kenyon Martin to a 10-day contract.)