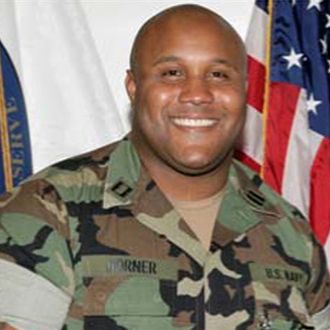 The search for Christopher Dorner, a former LAPD officer and Navy reservist wanted for multiple homicides, has southern California on edge today after he warned in a disturbing Facebook manifesto, "The Violence of action will be HIGH. … Whatever contingency plan you have, shelve it. Whatever tertiary plan you've created, shelve it. I am a walking exigent circumstance with no OFF or reset button." Dorner is suspected of killing a local couple over the weekend as revenge for being fired from the LAPD, and allegedly shot three police officers this morning, killing one.
The manhunt for Dorner already has collateral damage, CNN reports: "two people were wounded when officers in Torrance, California, opened fire on a blue pickup truck after it pulled up in front of a house where they were guarding a fellow officer Dorner had allegedly named as a target." While the truck resembled Dorner's, it was just delivering newspapers. Police shot at a second similar pickup truck elsewhere in the city, but no one was hurt.
"I will bring unconventional and asymmetrical warfare to those in LAPD uniform whether on or off duty," Dorner vowed in his online writings. "I know most of you who personally know me are in disbelief to hear from media reports that I am suspected of committing such horrendous murders and have taken drastic and shocking actions in the last couple of days … Unfortunately, this is a necessary evil that I do not enjoy but must partake and complete for substantial change to occur within the LAPD and reclaim my name."
In addition to a twisted, extremely long exegesis of his situation with the LAPD, Dorner's note includes pages and pages of scattered thoughts addressed to various famous people. From a list of musicians he loves (Hanz [sic] Zimmer, Jay-Z) to cable news personalities (Joe Scarborough, Willie Geist). Spanning pop culture and politics, Dorner rattles off:
Hillary Clinton. You'll make one hell of a president in 2016. […]

Gov. Chris Christie. What can I say? You're the only person I would like to see in the White House in 2016 other than Hillary. You're America's no shit taking uncle. […]

Wayne LaPierre, President of the NRA, you're a vile and inhumane piece of shit. […]

Tebow, I really wanted to see you take charge of an offense again and the game. […]

Larry David, I agree. 72-82 degrees is way to hot in a residence. 68 degrees is perfect. […]

Anonymous, you are hated, vilified, and considered an enemy to the state. I personally view you as a culture and a necessity that brings truth to a cloaked world. Forge ahead!

Charlie Sheen, you're effin awesome.
Gawker has the rest in two parts, but do not expect to understand.