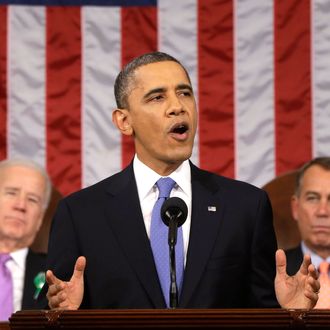 Two weeks ago in Las Vegas, President Obama told Congress that he'd wait for them to draft an immigration bill, but not forever: "If Congress is unable to move forward in a timely fashion, I will send up a bill based on my proposal and insist that they vote on it right away." He's not making good on the threat just yet, but he is cranking up the heat by circulating an immigration plan to various government agencies. Leaked documents from the proposal, originally obtained by USA Today, include descriptions of a "Lawful Prospective Immigrant Visa" to be made available to illegal immigrants who submit biometric information, pass a criminal background check, and pay some fees. After eight years, visa-holders would be eligible to apply for a green card and, eventually, citizenship.
Republican Marco Rubio, a member of the bipartisan group of eight senators currently working to craft an immigration plan, was not happy with what he saw in the paper. "If actually proposed, the president's bill would be dead on arrival in Congress, leaving us with unsecured borders and a broken legal immigration system for years to come," he said in a statement responding to the leak. In addition to calling the proposal "half-baked and seriously flawed," Rubio criticized Obama for not including any Republican input, doing too little about border security, and failing to reward "those who chose to do things the right way and come here legally." (For what it's worth, the proposal does include greater funding for border security and immigration judges, extend the E-Verify system to all businesses within four years, and call for a new "fraud-resistant, tamper-resistant and wear-resistant" Social Security card within two years.)
Another member of the Senate's immigration task force, New York Senator Chuck Schumer, took to CNN's State of the Union to remind everyone that the White House's proposal isn't done yet:
I don't know what bill the president has out there. I haven't seen it. But they did say last night — I don't know how it occurred — that it wasn't their final or complete bill. [A White House spokesman confirmed as much to the AP.] I know that Sen. Rubio is upset with the leak.
Meanwhile, Rubio and his conservative brethren may see at least one sweet spot in Obama's plan: Private citizens and businesses will be allowed to subsidize border security with private donations to the Department of Homeland Security. No word on whether donors will get to name their stretch of border fence like highway clean-up volunteers do, but it would be a fun touch.