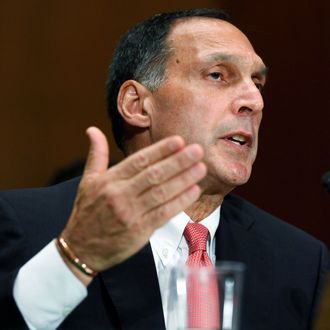 Bruno Iksil, I will END YOU.
Photo: Chip Somodevilla/Getty Images
If you've read any of the fi-cri literature about the end-days of Lehman Brothers (remember them?), you might think the firm's 2008 collapse was due to poor risk management, a balance sheet full of toxic mortgage-backed securities, a "Repo 105" accounting maneuver that allowed it to hide its losses on the way down, or a CEO whose favored tactic for dealing with short-sellers was threatening to eat their hearts out.
But you'd be wrong, according to Lehman Brothers, whose estate is now claiming that Bruno Iksil, better known as JPMorgan's "London Whale," is responsible for helping take the Bros down.
According to Reuters, Lehman and its creditors are trying to get Iksil to testify about whether he intentionally mismarked derivatives trades that led to a collateral call back in September of 2008, when the firm was circling the drain. JPMorgan, who is presumably not in the business of defending a guy who lost them $6 billion much more recently, seems to think that Lehman's allegation has less to do with the fact that Iksil may have been involved in Lehman's collateral call than the fact that Lehman is running out of people to blame for its own stupidity.
"It is readily apparent that the only real reason for plaintiffs interest in taking Mr. Iksil's deposition is that he has been in the news," a JPMorgan spokesperson said.
If Lehman's quest to get the Whale on the stand doesn't work out, it might want to try deposing some other recently-scandalized media figures. Manti Te'o? Jonah Lehrer? Lisa Lampanelli? Maybe one of them knows something.