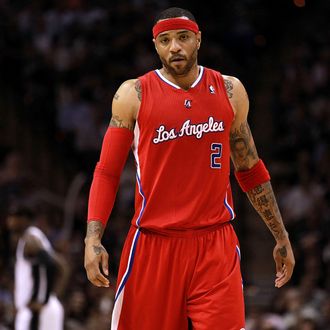 Welcome back?
Photo: Ronald Martinez/Getty Images
Yesterday, after trading Ronnie Brewer for an irrelevant draft pick so they could open a roster spot, the Knicks filled it with Kenyon Martin. He's currently only on a ten-day contract, but he'll have every opportunity to stick with the team the rest of the year. He hasn't played a game since last May, in the playoffs for the Clippers, but boy, has he made his mark on the league. Just to remind you who exactly Kenyon Martin is, we proudly remind you of Kenyon Martin's Five Most Kenyon Martin NBA Moments.
1. The Alonzo Mourning "fugazy" business. Way back in 2003, Martin was teammates with Alonzo Mourning on the Nets. The two had a bit of a scuffle in practice after Mourning came up last in a difficult drill. After Mourning lambasted his teammates for laughing, he and Martin started jawing more and more, with Mourning, who had missed two seasons with kidney disease, hammering Martin for not playing because of an injured ankle. And Martin struck back. From the Times:
"You can't be a leader in the trainer's room crying, 'My ankle, my ankle,' " Mourning added, referring to the sprained ankle that sidelined Martin for five games. Martin responded by mocking Mourning, muttering, "My kidney, my kidney." Mourning did not immediately react to that comment. But when the players separated into groups for the next part of practice, he suddenly charged toward Martin before being restrained by teammates as he yelled, using more profanity: "What did you say about my kidney? Don't talk about my kidney. I'll put you on your back."
That, along with Martin's general demeanor, led then-Knick Tim Thomas to call Martin "fugazy," as in "fake tough guy." "He's fugazy as far as the whole tough guy role," Thomas said. "You get techs and you get fines and that makes you tough? Because your game is wild and crazy, that makes you tough? When a scuffle breaks out, you have 13 guys that can protect you. When it's you and someone else, what happens then? Somebody call Don King and hook it up for us."
2. The time he sent his entourage after a mouthy fan. With Martin yet again injured, a fan in Denver yelled, "Suit up, you chump." Martin handled this by ordering one of his friends at the game to go after the fan. There was no violence, but Martin was fined and politely discouraged to keep his entourages away from future games.
3. The time he told his haters to get "full-blown AIDS and die." Martin says he was hacked, but his Twitter account sent out, "All Haters should catch full blown Aids and Die! Do the world a favor!and rid us of you all!" Shortly afterward, he deleted his account.
4. The time he called Mark Cuban a "f—-t motherfucker." After a shouting match between Cuban and Martin's mom — which Cuban later apologized for — Martin made his feelings about Cuban abundantly clear.
5. The time he got suspended by his coach in the middle of the playoffs. In 2006, George Karl — with whom Martin, along with new teammates Carmelo Anthony and J.R. Smith, famously battled — got in an argument with Martin during a time-out and eventually booted him from the team for the rest of the playoffs. (The argument was supposedly over Karl not starting Martin.) This is a guy the Knicks are bringing in for their playoff run, by the way.
Martin has been through a lot since his heyday and has made it clear he wants to do whatever it takes to stay in the league. (Including, apparently, playing for the league minimum on a ten-day contract. And having a good attitude about Basketball Wives.) For his sake, and the Knicks', let us all hope he means it. And let us all be happy the Knicks don't have any games left against Dallas.