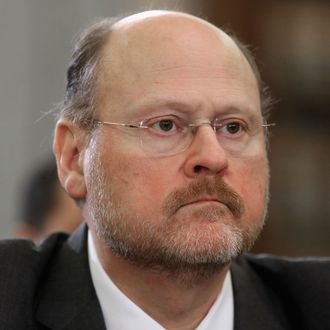 Photo: Chip Somodevilla/Getty Images2012 Getty Images
Most of New York's mayoral hopefuls went hard on Friday night at CUNY's midtown campus, where the Transport Workers Union hosted a public forum to discuss mass transit. However, while Christine Quinn, Bill de Blasio, John Liu, and the rest of the gang were bonding over their shared love of subways, buses, and other non-car ways of getting around the city, Republican candidate and former MTA head Joe Lhota was … somewhere else. But why? Spokeswoman Susan Del Percio told the New York Times that Lhota that there was "no outreach" from the TWU and that he only heard about the event on Tuesday, when another candidate mentioned it. Apparently, Lhota's not one to crash.
The TWU claims they did ask Lhota to attend, but only on Twitter because the organizers "did not know anyone on his campaign and could not find contact information on his Web site." Del Percio told Gothamist that that explanation is as unlikely as it sounds: "[TWU President John] Samuelson has reached out to Joe many times via cell phone (which has not changed since Joe left the MTA) and personal email. To suggest it was not possible to contact Joe or the campaign is insincere and disingenuous."
Meanwhile, a TWU spokesman told the site that Lhota is the disingenuous one here. "[He was] just looking for a reason to duck it," the spokesman claimed. That makes more sense — after all, answering for the MetroCard fare hike sounds like a pretty un-fun way to kick off the weekend.