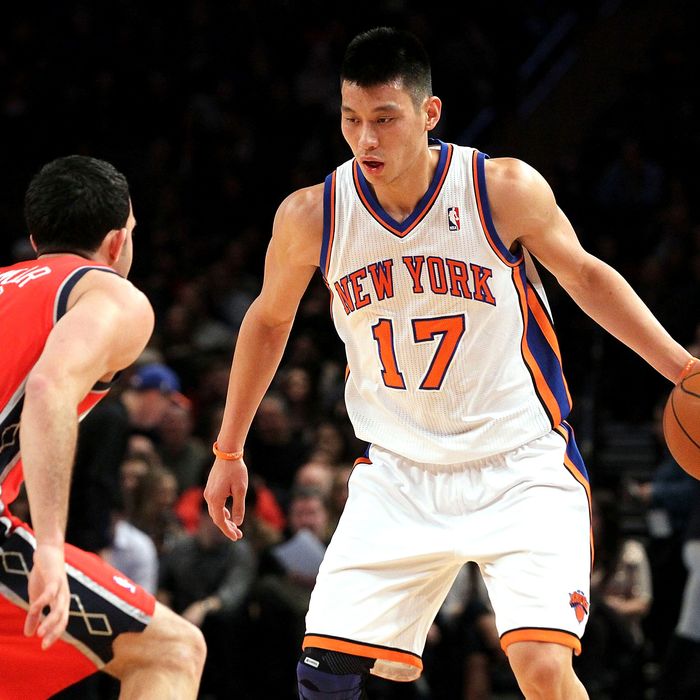 A year goes fast.
Photo: Jim McIsaac/Getty Images
One year ago today, February 4, 2012, the New York Giants were nestled soundly in their Indianapolis hotel beds, waiting to play in Super Bowl XLI against the New England Patriots. Mitt Romney was just about to win Nevada days after his big victory in Florida. And the New York Knicks limped into Madison Square Garden at 8-15, having lost eleven of their last fourteen games and completely falling apart. The decision to forgo the point guard position in favor of hoping Carmelo Anthony and Amar'e Stoudemire could figure out a way to play together was proving a disaster; Toney Douglas was setting the position back years. The Knicks' big experiment looked doomed. The lockout-shortened season was going to be over before it even started. When they fell behind 30-20 at the end of the first quarter to the lowly New Jersey Nets, all seemed lost. And then coach Mike D'Antoni got desperate and, for the first time all year, called for his third-string point guard in the first half. He had no choice. There was nobody left, and nothing was working. And just like that: Linsanity had begun.
If you want to relive the experience, here's the video; it only takes eight minutes. You're hungover anyway.
You can sort of see the whole Lin narrative, the whole story, in those eight minutes. At the beginning of the clip, Mike Breen is pretty much openly mocking Lin, pointing out how terrible he is on defense and how much better Douglas is than him. By the end, he's doing backflips, and Clyde is saying Lin's "smiling and profiling." And lord the Knicks, bench. Before the Carmelo dramas, before the "80 percent healthy" cracks, before everything inevitably turned sour … you had the purity of this game, this comeback, this explosion.
It's worth remembering how important that game was: The Knicks truly did look like they were toast. The lack of a point guard was their fatal flaw until Lin was just dropped from the heavens. The best part was that he did it again and again and again; that Nets win was the first of seven in a row. It remains one of the great sporting experiences of our lifetime.
Obviously, everything would implode, and there would be anger and frustration on both sides. The irony of that, of course, is that it turned out well for everyone. The Knicks are 30-15 and look like the formidable Eastern Conference opponents to the defending champion Heat. Lin, who has had some struggles this year but hasn't fallen off a cliff, is the point guard for one of the youngest, most exciting teams in the NBA. (They're at 84.3 percent playoff odds this morning.) Everyone is walking away from this in a better place. That night, one year ago tonight, changed the course of Knicks history, of even recent NBA history. Look how much better this team today is than it was that night, and that's minus Lin. Mike D'Antoni is gone, Carmelo and Amar'e are finally playing well together and nobody laughs when Lin comes in the game anymore. Fans thought they were watching a lousy Knicks team play a lousy Nets team. They ended up with one of sports' most amazing evenings.
Sports is fun for a million reasons, but among the top of that list is its true, almost random unpredictability. You never know when something miraculous is going to show up out of nowhere. One of those miracles happened a year ago today. Whatever happened after that was epilogue. The experience itself was all that mattered. We're never going to forget it. Today is a day to remember it. And then to move on, and watch the Knicks win tonight in an entirely different, just as satisfying way.