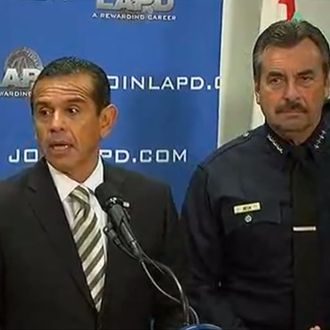 Los Angeles mayor Antonio Villaraigosa announces the reward.
Yesterday morning, two maids — still unnamed at this time — walked into what they believed to be an empty cabin in California's Big Bear mountains. Instead, they stumbled upon fugitive ex-cop Christopher Dorner, who tied them up and fled in a purple Nissan. Eventually, one of the maids managed to break loose and call the police. About a half-hour later, according to the Los Angeles Times, "officers with the California Department of Fish and Wildlife spotted the stolen vehicle and called for backup," and the chase was on. Following a shoot-out, Dorner took refuge in another cabin, where he died in a fire.
Normally, the maid's actions, which clearly led to Dorner's demise, would merely earn her the gratitude of the police force and the community. But this was hardly just any old criminal investigation. Three days ago, a group of local businesses, organizations, and private citizens, led by the Los Angeles mayor's office, cobbled together a record-breaking $1 million reward for information leading to Dorner's "arrest, apprehension, and conviction," in the words of Riverside County District Attorney Paul Zellerbach.
Does the maid, in a fairy-tale twist, get that million dollars? It's not clear. The maid's phone call didn't technically lead to the "arrest, apprehension, and conviction" of Dorner, only to his death, so if the terms of the reward are taken literally, it would seem she's out of luck. However, the city did get exactly what it wanted — the chance to bring Dorner to justice and end his reign of terror. Being stingy with the money, in such a high-profile case, could arguably dissuade citizens from making an effort to help the LAPD when rewards are offered in the future.
The ultimate decision for how to dole out that million-dollar bounty rests with the mayor's office, LAPD spokesperson Richard French tells Daily Intelligencer. "When there are rewards like this, they have to sit down with investigators and others, including the people who are offering the reward, the organizations who were offering the reward, and they have to kind of figure out how, or if, the reward is going to be distributed." There are no standard guidelines for rewards of this nature; they're handled on a "case by case basis," French says. A message left with the mayor's office has not been returned.
Update, 5:34 p.m.: TMZ points out that there are two other rewards for $100,000 each, but each of them require the capture or conviction of Dorner.