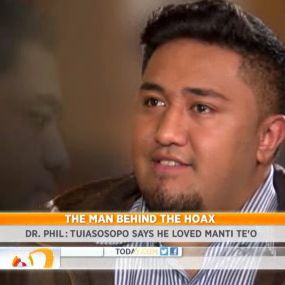 The great mystery of whether or not Notre Dame star Manti Te'o was speaking on the phone with an actual woman while long-distance dating the not-real, not-dead Lennay Kekua was solved today by Dr. Phil. Asked to perform the very female-sounding voice heard on leaked messages, admitted hoax mastermind Ronaiah Tuiasosopo ultimately delivered. After a bit of stage fright in the studio, Tuiasosopo went into full Lennay mode from home with a producer watching and was dubbed "a true talent" by a voice analyst.
Via Deadspin, where the fun began:
In the second day of his Dr. Phil tell-all, Tuiasosopo also explained that the creation of the Kekua character had "everything to do" with escaping reality because he was molested repeatedly as a child by a family friend. With a final dark turn (we hope) in this overplayed saga, the "Remember the Manti Te'o hoax?" era starts now.