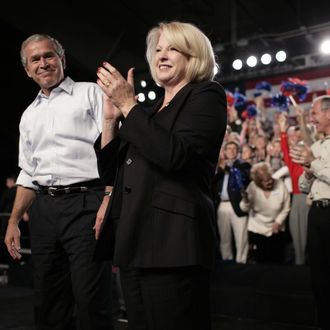 Still the same old Musgrave.
Photo: Brooks Kraft/Corbis
In a sign of just how broad support for gay marriage has grown, over 100 prominent Republican officials and politicians past and present — including two current U.S. representatives, George W. Bush national security adviser Stephen Hadley, top Mitt Romney adviser Beth Myers, and former California gubernatorial candidate Meg Whitman — have signed on to an amicus brief backing the constitutional right of gay marriage. (Which, by the way, is more progressive than President Obama's stance on gay marriage to date.)
But today the Times revealed the most shocking signatory of all: Former Colorado congresswoman Marilyn Musgrave, who had sponsored constitutional amendments banning gay marriage in 2003, 2004, and 2006. What an incredible change of heart, right? Wow!
Over at AMERICAblog, John Aravosis couldn't believe what he was reading:
I really can't overstate how bizarre and shocking this news is …. A lot of us (especially gay philanthropist Tim Gill) spent a lot of time and money trying to kick Musgrave out of office.  And they finally did.  She was horrible.  The woman was evil incarnate on gay rights issues.   She was the worst of the worst.  She was the LEAD SPONSOR OF THE ANTI-GAY CONSTITUTIONAL AMENDMENT.  It doesn't get any worse than Marilyn Musgrave.
You know who was most surprised by the news, though? Marilyn Musgrave:
"I'm very befuddled by this story," Musgrave told FOX31 Denver. "There's absolutely no truth to that. I'm reading it thinking, 'what in the world?'

"I wasn't even aware of it. I have not changed my position. I'm trying to imagine where anyone would get that information and I can't figure it out."
Later this morning, the Times cleared everything up:
Correction: February 27, 2013

An earlier version of this story incorrectly stated that former Representative Marilyn Musgrave, Republican of Colorado, had signed on to the brief. The brief was signed by her district director, for himself.
Hey, well, at least gay marriage has … that guy, whatshisface.