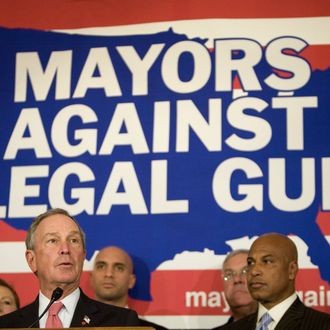 Photo: Brendan Smialowski/Getty Images
And he's picked his first target: former one-term Illinois congresswoman Debbie Halvorson, who's earned an "A" rating from the NRA and is gunning (ha!) for the newly empty seat of Representative Jesse Jackson Jr., who was charged yesterday with spending $750,000 in campaign funds on, among other things, a Rolex watch, Michael Jackson and Bruce Lee memorabilia, and capes. Politico reports that Mayor Bloomberg's super PAC, Independence USA PAC, plans to spend at least $2 million to block Halvorson and has already blanketed the air waves with ads attacking her.
"The fact that it's a special election, the fact that it's in the middle of a national debate over the president's plan," a Bloomberg adviser explained, "[there is] an understanding that it's both a bellwether and a harbinger." With the NRA sitting silently on the sidelines so far, Halvorson has been left to defend herself, though she skirted the main issue in a conversation with Politico: "Voters are upset that Mayor Bloomberg is using his money to buy a congressional seat," she claimed. Not enough voters, apparently. Since Bloomberg's ad barrage kicked off, his preferred candidate, state lawmaker Robin Kelly, has climbed in the polls and now leads Halvorson, who was once considered the obvious frontrunner.