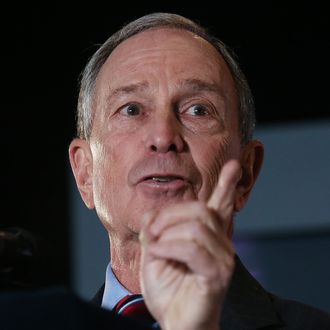 Don't make Mayor Bloomberg angry. You wouldn't like him when he's angry.
Photo: Mario Tama/Getty Images
Robin Kelly won a Chicago congressional primary; Mike Bloomberg won a trip to the White House. The two events are very much related. Kelly's victory, in a Democratic primary race to succeed the disgraced Jesse Jackson Jr., was a Bloomberg production. The mayor's super-PAC spent $2 million in less than a month to boost Kelly and defeat Debbie Halvorson, in the process turning the contest into a referendum on gun control. Halvorson, an NRA ally, was ahead in the polls before Bloomberg's barrage of TV ads. The mayor knocked off an obscure pro-gun California congressman in November, but this is a much bigger win: He made gun control the central campaign issue, in a major media market, in a city suffering through an epidemic of shootings.
"The landscape has changed dramatically in the past six months," says Howard Wolfson, the Bloomberg deputy mayor who ran the super-PAC during the fall elections. "An enormous amount of that was due to Sandy Hook, but there's a different political equation that congresspeople are forced to face now. There's a clear and growing understanding that the mayor is prepared to level the playing field and ensure that both sides in this debate are heard. That has not been true for a very long time, if ever."
 
After Kelly's victory became clear yesterday, Vice-President Joe Biden, who has been heading the White House push for new gun legislation, made time to meet with Bloomberg in Washington this afternoon. The two will then do a West Wing press conference to try to capitalize on the momentum. Sequestration is the Beltway obsession at the moment, but in the next few weeks, as the gun bill moves through the Senate, Bloomberg will make sure no one in Washington forgets about his new power to change the debate — and to swing congressional elections.