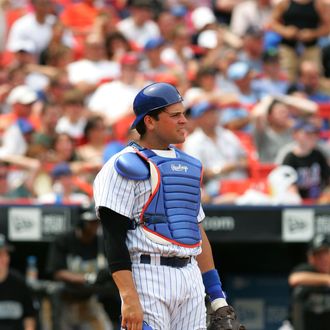 Mike Piazza.
Photo: Ezra Shaw/Getty Images
Mike Piazza, one of the greatest offensive catchers of all time, wasn't elected to the Hall of Fame this year, in large part because of speculation that he might have taken performance-enhancing drugs. We've covered this injustice plenty already, but one part of this story has always stood out as particularly absurd: The time Murray Chass wrote on his blog that, boy, isn't it convenient that Piazza's tell-all memoir wouldn't be released until after the 2013 voting, and you know, maybe writers should hold off on voting for him until after the book was released, just in case.
It's hard to say whether other voters used this totally sound logic themselves, or had their own, independent suspicions about Piazza, or simply wanted to make a statement this year by doing what they could to make sure no one was elected to the Hall. Last month, before copies of the book began to circulate, Piazza's co-author told Newsday that "Anybody who's looking for Mike's answer to PED questions will find it there … I believe he's clean." But the book is finally in stores today, and based on early excerpts and descriptions, it doesn't contain any bombshell admissions of illegal drug use, though those looking for reasons to withhold their vote might still find them.
Via the Post, "The strongest concoction he admits taking was androstenedione," the over-the-counter muscle-building supplement made famous by Mark McGwire that wasn't banned by baseball until 2004. (Piazza says he stopped taking it in 1998.) He also admits to popping "greenies," or stimulants that baseball players had been taking for decades. (Amphetamines weren't banned by baseball until 2005.) The Post reports that he also took Ephedra, the over-the-counter fat burner that was later added to the banned list. In other words, Piazza admits to taking things that were not banned at the time. (Drug testing, by the way, existed in Major League Baseball during the latter part of his career, and he never failed a test.)
So will this make any difference in the minds of voters? Given the current climate, probably not. A reasonable voter — even ones with strong anti-PED stances — might think so, but the writers who've withheld their votes for Piazza have already proven themselves to be less than reasonable. This isn't to say Piazza won't get in eventually: Some voters, having made their big point this year, might be more willing to cast votes in the future. Others might eventually reconsider their opinions of players who are merely suspected of using illegal performance enhancers. And still others might have believed Piazza was a Hall of Famer this year but didn't vote for him on the first ballot, because that's a thing writers do, for some silly reason.
Meanwhile, it remains unclear how Piazza's candidacy will be affected by his admission that he was once punched by Home Improvement cast member Debbe Dunning after the two broke up, and that he took karate lessons in case he had to brawl with Roger Clemens. Murray Chass, the world awaits your guidance.