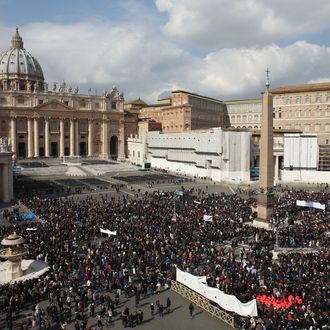 Photo: Oli Scarff/2013 Getty Images
The Catholic church is having an especially stressful weekend. Things kicked off on Friday, when an Italian newspaper claimed that Pope Benedict XVI's resignation had something to do with gay prostitutes blackmailing Vatican officials. A Vatican spokesman dismissed the report as "misinformation" and "slander" on Saturday, but it now seems that he has another potential sex scandal to address: On Sunday morning, Britain's Observer reported that four men — three former priests and one acting one — have accused Cardinal Keith O'Brien, the head of the church in Scotland, of engaging in "inappropriate" and "intimate" behavior with them over the course of 33 years. O'Brien (who is vocally anti-gay) responded to the charges by skipping Sunday mass. His auxiliary told reporters that the Cardinal, who is set to retire soon, is seeking legal advice on the matter.
The allegations against O'Brien emerged on the same day as Benedict's final public prayer ceremony. Thousands of people showed up in St. Peter's Square for the service, which was frequently interrupted by cheers. After thanking the crowd for their "affection," the Pope addressed his departure by saying that, "The Lord is calling me to go on top of the hill, to dedicate myself once more to prayer and meditation." However, he added, "this does not mean to abandon the church." Still, it doesn't seem like a bad time to get some distance.