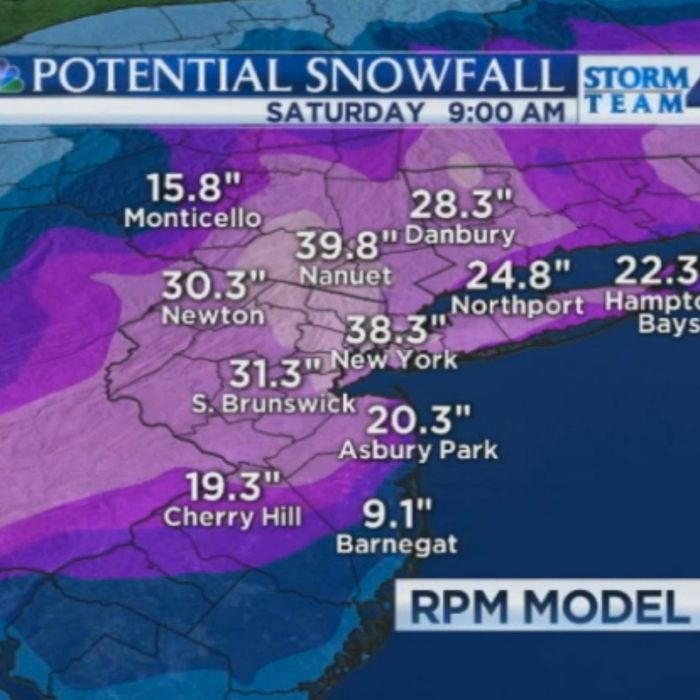 According to one model used by NBC's weather department, a coming snowstorm could dump as much as 38.3 inches of snow on New York City on Friday and Saturday. For all the idiots out there: That's a lot of snow. In fact, the all-time record snowfall in the city was 26.9 inches. The storm that paralyzed the city for a few days in 2010 was about twenty inches. 
Before you make a panic run to the liquor store, keep in mind that every other model shows the city receiving much, much less snow.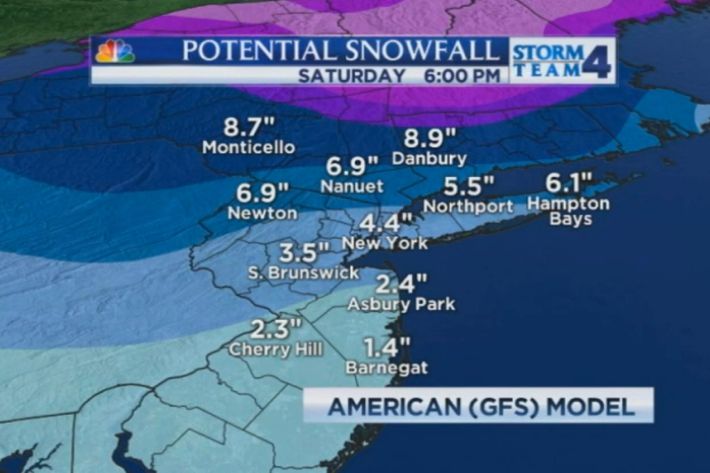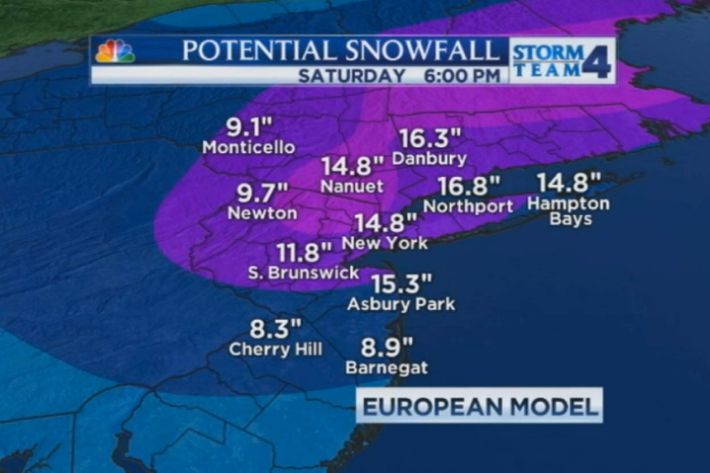 In fact, according to The Wall Street Journal's Eric Holthaus, we may barely get any snow at all. 
The tough forecast hinges on the interactions between a small system currently near Chicago and another that hasn't even formed yet off the Carolina coast. Should the storms merge and pool their energy, a rapidly deepening snowstorm could develop on Friday. If they miss each other — even by 50 miles — most of the resulting storm's energy will be shifted further northward, leaving primarily rain for New York City.
To sum up, either a giant snowstorm will destroy life as we know it this weekend, or it's going to rain. Plan accordingly. 
Update, 4:44 p.m.: The National Weather Service is now expecting between zero and twelve inches:
THE MOST UNCERTAINTY IN SNOWFALL AMOUNTS IS TOWARDS THE CITY/LI…WHERE TIMING OF CHANGEOVER AND LOCATION/DURATION OF BANDING WILL BE CRITICAL. A DIFFERENCE IN LOCATION AND/OR TIMING OF EVEN 3 HRS IN THIS BANDING…COULD BE THE DIFFERENCE IN NOTHING VERSUS 6 INCHES OF SNOW. ENOUGH POTENTIAL EXISTS FOR 6 INCHES OF SNOW ACROSS THE NYC METRO AND LI FOR A WATCH. IF TIMING OF PHASING IS A BIT SLOWER…THAN WE COULD BE LOOKING AT ONLY ADVISORY LEVELS SNOWFALL…WHILE IF IT IS FASTER THAN FORECAST WE COULD SEE 6 TO 12 INCHES OF SNOW.