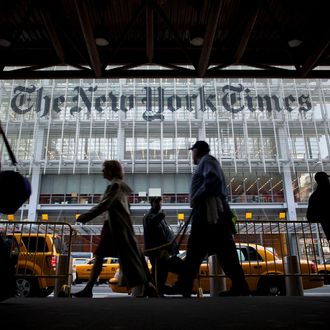 Photo: Michael Nagle/Bloomberg via Getty Images
The New York Times Company reported its full-year figures for 2012 today, and the emerging pattern held: Advertising was down 8.3 percent on the year, with digital ad revenue also slipping 1.9 percent (excluding 2012's additional week), but people are still paying for the product. "For the first time in our history, annual circulation revenues surpassed those from advertising," said new CEO Mark Thompson in a statement. "By contrast, the advertising environment remained challenging in the fourth quarter."
Digital subscribers are still paying up, with the Times and International Herald Tribune growing 13.1 percent since September in online readers, up to 640,000. Circulation revenue rose 16.1 percent in the fourth quarter, resulting in yearly totals of $953 million for subscription fees and $898.1 million in ad dollars. An analyst told Reuters the reader revenue was "phenomenal" and "better than I thought," so in that sense, the much-discussed paywall is working. 
But it still has a ways to go before it can make up for the lost revenue from ads. As Bloomberg notes, "It's a milestone that upends the traditional 80-20 ratio between ads and circulation that publishers once considered a healthy mix and that is now no longer tenable given the industry-wide decline in newsprint advertising."
"The demonstrated willingness of users here and around the world to pay for the high quality journalism for which The New York Times and the Company's other titles are renowned will be a key building block in the strategy for growth, which we are currently developing and which I will have much more to say about later in the year," said Thompson. They're working on it.