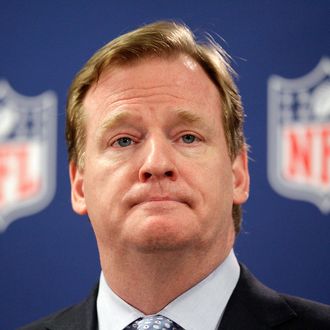 Photo: David Goldman/AP/Corbis
Last week, President Obama put a bit of a damper on the pre-Super Bowl excitement when he told The New Republic that, because of recent discoveries about the long-term effects of concussions and other common football-related injuries, he'd have to "think long and hard" before he'd let his son play football — if he had a son, that is. So, when NFL Commissioner Roger Goodell was asked about Obama's remarks on CBS's Face the Nation today — an important one for football, to say the least — he was sure to say that he would "absolutely" let his own son play. Of course, he doesn't have one either. "I have twin daughters just like the president and I'm concerned when they play any sport," he said, though he refused to admit to a link between concussions and the NFL. "We're going to let the medical individuals make those points."
While President Obama did say that he's far more worried about collegiate players than their professional counterparts — who, after all, have a union and are well-paid "for the violence they do to their bodies" — the point was that the sport is brutal and dangerous and more needs to be done to protect the players. So why is Goodell playing coy? CBS Sports senior blogger Will Brinson explains:
There's not much Goodell can say about that. If he acknowledges a link on one of the nation's oldest and most revered television shows, he kind of sinks his battleship with respect to the various lawsuits the NFL is facing. And if he says no, well, Goodell would look delusional. In that sense he handled the questions well.
But Goodell also needs to factor in the feelings of hardcore fans (and players like Ravens safety Bernard Pollard), who fear the game will be softened to the point of extinction. Asked by Schieffer whether the NFL will even be around in 30 years, Goodell insisted he's hopeful about football's future. "The game of football always evolves," he said. "Throughout the decades we've always made changes to our game to make it safer for the players and more exciting for the fans." Striking the perfect balance, though, is anything but simple.