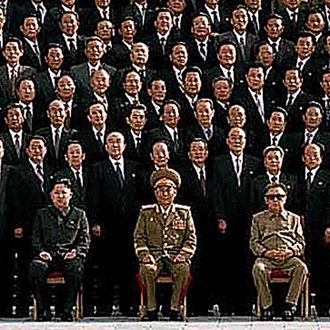 Photo: Handout/2010 Korean News Service
North Korea is not the most communicative of nations, so United States General James Thurman was probably pretty surprised to receive a Saturday phone call from Pak Rim Su, the country's top delegate to the Korean Demilitarized Zone. However, we doubt he was surprised by the tone of the message, which was hostile. Pak reportedly warned Thurman, the top American commander in South Korea, against participating in military drills with South Korean troops scheduled for March:
"If your side ignites a war of aggression by staging the reckless joint military exercises … at this dangerous time, from that moment your fate will be hung by a thread with every hour," Pak was quoted as saying.

"You had better bear in mind that those igniting a war are destined to meet a miserable destruction."
The exercises, which will involve over 200,000 South Korean troops and around 13,500 Americans, will include land, sea, air, and computer-simulation drills. This sort of thing is normal, but the North Korean government has reason to think (or at least to tell its citizens to think) otherwise, since they recently threatened South Korea with "final destruction" and successfully completed a nuclear test. U.S. officials have yet to comment on the conversation. It's worth noting that the phone call was reported by North Korea's state news agency, which is not exactly known for total accuracy.