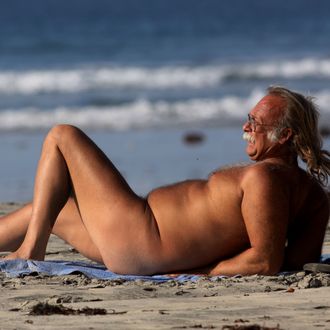 Photo: Sandy Huffaker/Corbis
The growing popularity of certain freewheeling New York beaches, including Lighthouse on Fire Island and Jacob Riis Park in Queens, has spurred authorities to attempt a crackdown on nudity that's bound to make for some awkward encounters this summer. According to Newsday, "increased complaints and observations of assault, sex, masturbation and prostitution" have made the usually lax rules a liability, although Park Service officials are still working out just how they'll maintain puritanical order, especially among men:
Rangers will begin by "educating" nude bathers, [Fire Island chief ranger Lena Koschmann] said, and progress to giving tickets. But that is difficult, she said, since many nude sunbathers do not carry identification.

Toplessness, she said, "is tricky. The law that's on the books still says a woman has to have her breasts covered. That being said, there is some case law that has led to a different type of enforcement in that area … We're not going to be hammering on toplessness."
As written, the law is a class B misdemeanor, punishable by fines up to $5,000 and six months in jail, the New York Times notes. But just imagine the form protests will take if it really comes to that.