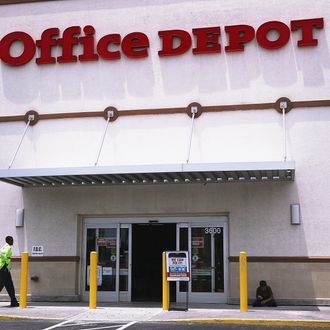 Not OfficeMax, we think.
Photo: Joe Raedle/Getty Images
Usually, people are pretty good at telling the difference between big-box retailers. Target is the red one. Best Buy is the one with the wall of TVs and racks of forlorn CDs. Walmart is the one where humanity is drained of its life force.
But most people, no matter how retail-savvy, have never once considered the fact that OfficeMax and Office Depot are two different stores. It's like finding out that your left and right shoes are made by different companies. So the news that the two Office-somethings are in talks to merge is probably a little disorienting.
The Wall Street Journal reported last night that OfficeMax and Office Depot are in "advanced talks" about the merger, which would allow them to "fight off tougher competition from rivals like Staples and Amazon.com." According to the Journal, the deal could produce synergies as high as $700 million. That's banker-speak for "we sell all of the same things anyway, so selling them under one roof would save a lot of money." Office Depot, as the slightly larger of the two, would presumably get a bigger share of the merged company, which could be known as "Office Office," "MaxDepot," or "Not Staples."

We await the inevitable merger of other companies nobody can tell apart, like Duane Reade and Rite Aid.