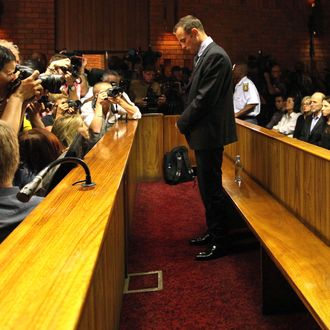 Photo: Themba Hadebe/Corbis
After a not-so-brief history of bail in South Africa and a comprehensive rundown of every witness and the entire case so far, a magistrate ultimately granted the release of Oscar Pistorius as he awaits trial for the premeditated murder of his girlfriend, Reeva Steenkamp. After such a massive buildup, some in the courtroom erupted in cheers. The double-amputee Olympian, accused of firing four shots through a bathroom door at Steenkamp, maintains that he thought a burglar was coming through the window. The prosecution claims the couple was arguing and that Pistorius knew full well where he was firing.
Magistrate Desmond Nair said the state had not shown that Pistorius had a propensity for violence, posed a flight risk, or would interfere with witnesses. Moreover, he said that the accused's alternate version of events, offered under oath, made a case for his bail despite the magistrate's own doubts about Pistorius's story.
Nair fixed bail at 1 million rand ($112,800 in U.S. dollars) with "a cash amount of 100,000 rand…plus a further 900,000 rand as a guarantee and surety," The Guardian reports.
Pistorius must also surrender all firearms as part of his bail.
Nair focused largely on the fact that Pistorius has little chance of skipping town. "What kind of life would he lead, a person who has to use prostheses, if he has to flee … ducking and diving every day," he asked. "His international career would be over in any event." Pistorius's defense attorney Barry Roux added, "Let me tell you how difficult it is for this man to disappear from this world," noting his client's international fame.
"He did not want to kill Reeva. He had no intent to kill Reeva," Roux said early in the hearing. Pistorius, once again, cried in court.