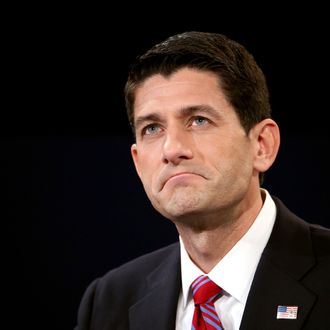 U.S. Rep. Paul Ryan (R-WI) listens during the vice presidential debate at Centre College October 11, 2012 in Danville, Kentucky. This is the second of four debates during the presidential election season and the only debate between the vice presidential candidates before the closely-contested election November 6.
Photo: Chip Somodevilla/Getty Images
Here's angsty teenager Paul Ryan's response to This Week host Jonathan Karl's question about whether he plans to run for president in 2016: "Will I or won't I? I don't know. I literally do not know the answer to these questions about what is the best role for me to play to fix these problems for our country in the future." Then, fighting back tears, he threw up his hands and ran off the set to lock himself in ABC's green room, where he curled up with a Molson Light and blasted Rage Against the Machine on his Walkman until his mind finally went blank.