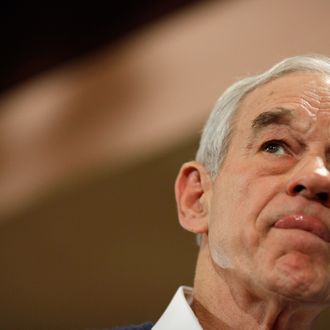 Photo: Chip Somodevilla/Getty Images
In a move that's baffled and enraged his staunchly libertarian fans, three-time presidential candidate Ron Paul has asked the World Intellectual Property Organization to confiscate two domain names currently held by his supporters: RonPaul.com and RonPaul.org. In a Friday blog post, the sites' proprietors fired back at their hero by claiming that they'd already offered to let Paul buy RonPaul.com (and its 170,000-follower mailing list) for a measly $250,000. (RonPaul.org was apparently thrown in as "a free gift.") After all, that's the proper market economy way to handle this situation … right? Instead, their beloved leader has chosen to expropriate private property with the help of a major bastion of liberal tyranny: the United Nations, which controls the WIPA.
The betrayed loyalists at RonPaul.com went on to blast Paul for his hypocrisy in this heartbroken passage:
Back in 2007 we put our lives on hold for you, Ron, and we invested close to 10,000 hours of tears, sweat and hard work into this site at great personal sacrifice. We helped raise millions of dollars for you, we spread your message of liberty as far and wide as we possibly could, and we went out of our way to defend you against the unjustified attacks by your opponents. Now that your campaigns are over and you no longer need us, you want to take it all away – and send us off to a UN tribunal?
In closing, they had just one thing to say: "We want our old pre-retirement Ron Paul back!" It's sad, but Paul knows that all's fair in love and domain names.