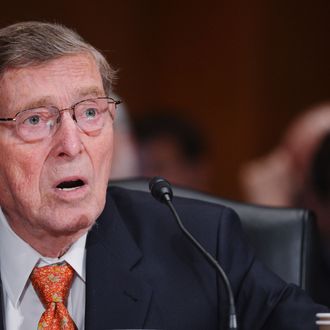 Ballsy move, senator.
Photo: Mandel Ngan/AFP/Getty Images
It's hard to get too excited about a political sex scandal these days — we've pretty much seen it all at this point, right? — but this one is an absolute doozy.
Former six-term* New Mexico senator Pete Domenici, a Republican, has admitted to fathering a son outside of his marriage "over 30 years" ago during, supposedly, a one-night stand. The mother was Michelle Laxalt, who now runs her own lobbying firm. But here's where things really get interesting: Laxalt is the daughter of former Nevada senator Paul Laxalt, who served at the same time as Domenici. Yup: Domenici schtupped a fellow senator's daughter. Voter registration records for the son they had together indicate that the affair occurred in 1977. Laxalt was 24 years old at the time, and Domenici was 46.
"The mother of that child made me pledge that we would never reveal that parenthood, and I have tried to honor that pledge and so has she," Domenici told the Albuquerque Journal in a statement. But Domenici got wind that someone was about to blow their cover. "Rather than have others breach this privacy, I have decided to make this statement," he continued. "These circumstances now compel me to reveal this situation."
Domenici is still married. "I have apologized as best as I can to my wife," his statement continues, "and we have worked together to strengthen our relationship."
Paul Laxalt is now 90 years old. He hasn't yet spoken publicly about the affair, but we can't imagine he's too happy.
Update, 8:16 p.m.: Courtesy of the Atlantic Wire, Laxalt made an amazing-in-retrospect defense of Domenici on Larry King in during the 2007 U.S. attorney firing scandal:
I don't think so. I think when you're – when you're attacking the integrity of someone who has been in public service for his entire lifetime, at great sacrifice, supporting no fewer than eight children and with the many sacrifices and the many contributions Senator Domenici has made, not only to the country, but to New…
Not "supporting eight children" — "supporting no fewer than eight children." Which is true. But it's a bizarre thing to say unless you're aware of a secret love child and you're a zealot for accuracy.
*Domenici served for six terms, not eight.