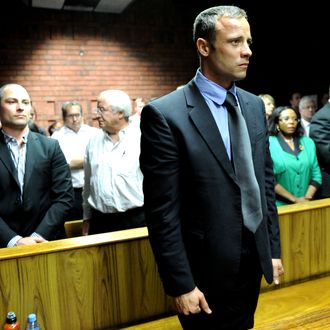 Photo: STEPHANE DE SAKUTIN/AFP/Getty Images
Olympic track star Oscar "Blade Runner" Pistorius was back in court this morning to face premeditated murder charges in the death of his 30-year-old girlfriend, Reeva Steenkamp. For the first time, the double amputee described his version of events, stating in an affidavit, "I had no intention to kill my girlfriend." While the prosecutor claimed Pistorius was homicidal when he put on his prothetic legs and walked to the bathroom, where he put four bullets through the door, the accused said he did so because he was afraid.
The New York Times has the defense's version of events:
Mr. Pistorius said he heard a noise from the bathroom and walked on his stumps, not prosthetic legs. He was nervous, he said, because the toilet window did not have burglar bars and contractors who had been working there had left ladders.

The room was dark, he said, and he did not realize that Ms. Steenkamp was not in bed. He felt vulnerable and fearful without his prosthetics and opened fire at the door, he said, then broke it down with a cricket bat to discover Ms. Steenkamp.

He carried her downstairs, he said, and "she died in my arms."
Prosecutors contend the pair was arguing. "She locked the door for a purpose. We will get to that purpose," said a lawyer. "She could not go anywhere," he added. "It must have been horrific."
A funeral for Steenkamp was held in Port Elizabeth, South Africa, during the day's court proceedings. "Why? Why my little girl? Why did this happen? Why did he do this?" her mother asked in an interview yesterday.
"We were deeply in love and I could not be happier," Pistorius, who again "wept uncontrollably," maintained in his statement. "I know she felt the same way."