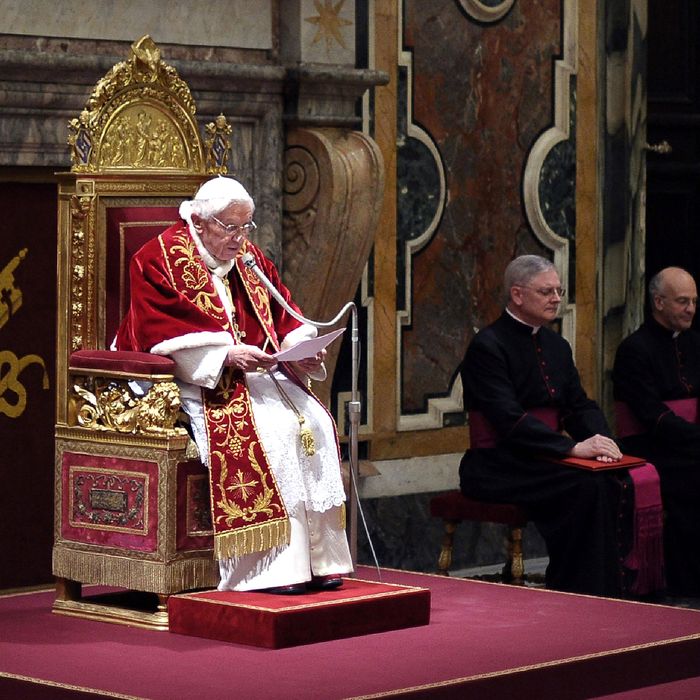 The pope really made his last few hours count, at least in terms of pomp. With his final helicopter departure to the holy vacation home planned for 5 p.m. Vatican-time, Benedict XVI said farewell to his "princes" in an "unexpected" speech. "May the College of Cardinals work like an orchestra, where diversity — an expression of the universal church — always works toward a higher and harmonious agreement," he said to the men who will choose his successor. "Among you is also the future pope, whom I today promise my unconditional reverence and obedience." But today, they literally kissed the ring.
The AP reports:
The moment was as unique as Benedict's decision to quit, with the 85-year-old pope, wearing his crimson velvet cape and using a cane, bidding farewell to his closest advisers and the cardinals themselves bowing to kiss his fisherman's ring for the last time.
Benedict's outfit is set to simplify once he abdicates office, so he went all out today, wearing a ceremonial red cape with ermine trim reserved for special occasions. It's also the pope's last time wearing his trademark red leather shoes.
But while he plans to live a simple life, the pope emeritus will also collect 2,500 euros a month in pension. That should cover some new fancy threads less fraught with godly significance.