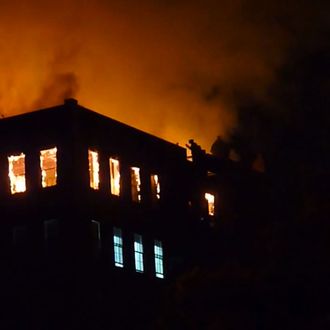 A huge blaze at Brooklyn's Pratt Institute overnight damaged the Main Building, and took 39 fire trucks and 168 firefighters more than four hours to put out, the New York Times reports. To make matters much worse, unlike a typical college where theses and long-term projects are saved on computers and in Google Drive, Pratt's art and design students had their life's work inside.
"I was planning to sell these to pay my bills," 24-year-old Maria de Los Angeles told DNAinfo of her ruined prints and paintings. "I lost everything. … I come from a poor family. They're not going to be able to pay to help me. … I can paint fast and come up with new work, but financially it hurts."
"My roommate lost four of her paintings, which she's been working on for about six months," another student said to the Daily News. "It's really detrimental to our coursework because we have so much time invested."
While art supplies aren't thought to have made the fire worse, the tabloid reports, "Fire marshals are investigating the fire as suspicious, citing the volume of flame and that the building is typically unoccupied after 9 p.m." Pratt is taking donations here.