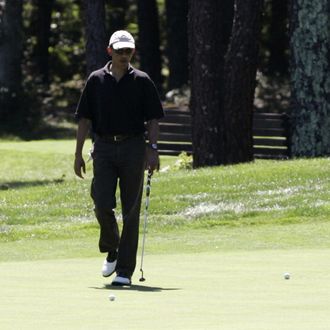 Barack Obama and Tiger Woods played their first game of golf ever on Sunday,  and the White House press corps is beside itself over the fact that it wasn't allowed to photograph or report on the president putting with the golf superstar. "Speaking on behalf of the White House Correspondents Association, I can say a broad cross section of our members from print, radio, online and TV have today expressed extreme frustration to me about having absolutely no access to the President of the United States this entire weekend," WHCA president and Fox News correspondent Ed Henry said in a statement. "There is a very simple but important principle we will continue to fight for today and in the days ahead: transparency." Golf Digest, which does not employ a White House correspondent, is thrilled at its exclusive.
Based on the pool report copied in BuzzFeed, the only journalist with access to the Floridian Yacht and Golf Club, where Obama and Woods played, was Golf Digest's Tim Rosaforte, who broke the news of the president's note-worthy game on Twitter:
The President is arriving at The Floridian range. Awaiting is Tiger Woods and club owner Jim Crane. Historic day in golf. Their first round.

— Tim Rosaforte (@TimRosaforte) February 17,

 

2013
Rosaforte didn't give a play-by-play of the game, but he tweeted from the club house that Woods had holed out from a sand bunker for a birdie, and according to the pool report, he was commenting to the Golf Channel all morning Sunday. Someone at Golf Digest (presumably Rosaforte, but the story has no byline) also spoke with Butch Harmon, Woods's former coach, who was at the tee with Obama and Woods: "The President said to Tiger, 'The last tournament you played was fun to watch. It's good to see you play well again.' You could tell he meant it. It just wasn't a throw it out compliment," Harmon said.
The White House, meanwhile, defended the lack of access as "entirely consistent with the press access offered for previous presidential golf outings," according to a statement quoted by Politico. "It's also consistent with the press access promised to the White House Press Corps prior to arrival in Florida on Friday evening."
BuzzFeed's Zeke Miller, himself a member of the WHCA, noted coolly: "It is not clear how Rosaforte was allowed to report and broadcast from the secured private compound."