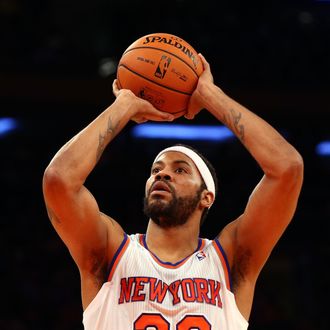 We continue to have a need for 'Sheed.
Photo: Jim McIsaac/Getty
One of the most enjoyable subplots of the first month or so of the Knicks' season was the instant, all-encompassing hug Knicks fans gave to Rasheed Wallace. He's been a villain at MSG most of his career, but after coach Mike Woodson talked him out of retirement to sign with the Knicks, the crowd took to him immediately, chanting his name when he was on the bench and losing their mind every time he hit a three. (It helped that he played so well early, even, at one point, leading the league in PER.) It just added to the good vibes back in November and December. Those good vibes have been gone for a while now, and so has Rasheed.
Today, the Knicks made it official: Wallace will have surgery on his injured left foot and miss the next eight weeks, which almost certainly spells the end of his Knicks career, and probably his NBA career in total. Bummer, right?
'Sheed hasn't actually played since a December 13 win over the Lakers, and you can actually track the Knicks' struggles (particularly with interior defense) back to that date. The Knicks were 17-5 after that win; they're 16-15 since. Worries about Wallace's recovery, along with Marcus Camby's (who might return in the next week, according to the Knicks), were the reason the team signed Kenyon Martin last week. The Knicks were right to be worried.
Wallace could conceivably be back in time for the second round of the playoffs, if the Knicks were to make it that far, but one shouldn't hold one's breath. This is probably it for Wallace, which is bad for him and bad for the Knicks, who clearly played better when he was getting minutes. He'll be missed, and not just because he was crazy. Though that part was fun, too.
So, let's just remember the greatest Rasheed Wallace Knicks moment and try to move on.