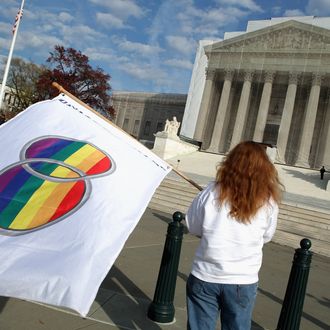 Photo: Chip Somodevilla/Getty Images
Following a brief period of soul-searching after losing the presidential election in November, Republicans seemed to settle on a strategy of embracing immigration reform and not changing much else. Now a group of prominent Republicans have challenged that plan by signing a legal brief urging the Supreme Court to strike down Proposition 8. While House Republicans are working to uphold the Defense of Marriage Act, which will be considered by the court along with the California's ballot initiative next month, the brief argues that same-sex marriage promotes family values and is consistent with the conservative principles of "limited government and maximizing individual freedom."
The New York Times reports that so far the amicus brief has been signed by 75 Republicans who mostly haven't openly supported gay marriage in the past. Some of the most well-known conservative backers of same-sex marriage — such as Dick Cheney, Laura Bush, and Colin Powell — haven't signed on, but the group includes two current members of the House, several former Bush administration officials, and four former governors. One of the signers, former Utah Governor Jon Huntsman, supported civil unions during the 2012 campaign, but announced last week that he now believes same-sex marriage should be legalized. Another member of the group, Meg Whitman, has done a notable reversal, since she promised to defend Proposition 8 when she was running for governor of California.
Last week, the Obama administration filed a brief calling DOMA unconstitutional, and while amicus briefs usually don't sway the justices' opinions, SCOTUSblog publisher Tom Goldstein tells the Times the Republicans' brief, "has the potential to break through and make a real difference." Though one or two right-leaning justices might be swayed, the same can't be said for most Republicans. Last month, House Republicans increased their legal budget for fighting DOMA to $3 million, and when asked recently about President Obama's push for gay couples to be included in immigration reform, Lindsey Graham cracked to reporters, "Why don't we just put legalized abortion in there and round it all out."
Even if the majority of conservative lawmakers have yet to "evolve" on the issue, thanks to the brief they'll face more questions about the conservative rationale for opposing gay marriage. Bobby Jindal was already ambushed with a question about Huntsman's new stance on Sunday's Meet the Press. He declared that he believes in "the traditional definition of marriage" and quickly changed the subject, but Republicans may need to come up with a better answer in the coming weeks.