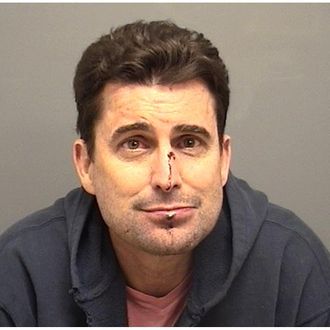 Local CBS 2 News personality Rob Morrison has resigned from the station, Fishbowl NY reports, amid domestic-abuse allegations that just keep getting uglier. Morrison was arrested on Sunday, bruised and bloody, when officers arrived at his Connecticut home to find red marks on the neck of his wife, fellow CBS reporter Ashley Morrison. According to police, Ashley hit Rob in the face with a television remote to stop him from choking her. "I can't go home tonight, man, I'm fucking killing her!" Morrison reportedly told his arresting officer.
The New York Post and Daily News run down a long list of alleged domestic disturbances between the Morrisons dating back to 2009. "This doesn't shock me. This has gone on for 10 years," said Ashley's mother, who called the cops to the couple's home this weekend. "I'm sure he was drunk."
Rob Morrison told the Daily News that the couple was watching Mystic Pizza when they started arguing, potentially over Facebook photos, but denied choking his wife or laying a hand on her. "Don't piss off your mother-in-law is the moral of the story," Morrison told the paper, "as he tried to relax listening to the Grateful Dead's 'Attics of My Life.'" He is currently free on $100,000 bail.
"Sincere thanks to our family, friends, colleagues and viewers who continue to show support. It's humbling and overwhelming," Morrison tweeted this morning. "To those who prefer to believe the outright lies printed in the tabloids, I ain't mad at ya. Good luck."