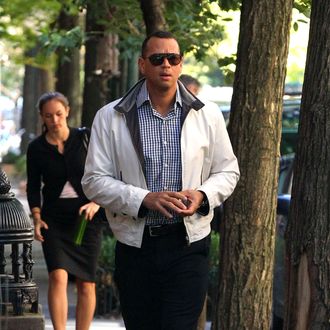 Cool guy.
Photo: Christopher Peterson/Splash News
In the Daily News this morning, mustachioed "media" columnist Bob Raissman reminds us that it's the slowest sports month on the calendar by imploring Alex Rodriguez to sit down with someone on the YES Network and have a tell-all interview about all these niggling PED issues that keep popping up. Boy, is this ever a terrible idea.
First off, it's a terrible idea for the Yankees. They are surely gonna try to get A-Rod's contract nullified if he's suspended for the Miami PED business. That's extremely unlikely to happen — and it probably shouldn't — but the last thing they need is the tacit A-Rod approval that would come with giving him an hour on their flagship. Frankly, if A-Rod doesn't show his face until August, they're just fine with that.
But it's even a worse idea for A-Rod. Because these tell-alls never, ever work. You can't fix your image with an interview anymore. All you can do is make it worse for yourself.
Ask Lance Armstrong, who sat and answered question after question after question from Oprah Winfrey. Armstrong answered more direct questions about PEDs than any athlete we have ever seen. But it was about the questions he didn't answer, the "I didn't call her fat," the sense that everyone was watching just because they wanted to watch him squirm. Armstrong is worse off than he was before that interview. Or Manti Te'o. Manti Te'o was unable to answer the majority of Katie Couric's questions in any sort of convincing fashion, and most people walked away thinking Te'o was either gay, a steaming moron, or both. (Te'o came off so bad that you sensed he'd rather be known as a steaming moron.)
Or, you know: Ask A-Rod. After all, he went through this whole thing just four years ago, when he admitted to then-ESPN reporter Peter Gammons that he had taken PEDs. That admission garnered him exactly zero seconds of goodwill, particularly when he accused reporter Selena Roberts (or "this lady," as A-Rod called her) of stalking him and trying to break into his home, charges that were immediately refuted and proven false. No one liked A-Rod anymore after that interview than they did before. No one found him sympathetic. They just piled on. That's what people do with A-Rod, and that's what people do with these interviews.
Later in 2009, the Times' Tyler Kepner wrote a terrific piece about A-Rod, specifically how well he had handled all the negative publicity that season, once the PED blowback had died down. What did A-Rod do to get people off his back? He shut up, and he disappeared.
Rodriguez has relied much more on Jason Zillo, the Yankees' media relations director, who is roughly Rodriguez's age and understands the sports media better than the other advisers. Zillo was blunt with Rodriguez, telling him he was probably the only New York athlete to whom reporters wanted less access, not more. The weeks Rodriguez spent recovering from his March 9 surgery in Vail, Colo., turned out to be a godsend. He concentrated on his recovery and let Zillo's advice sink in. Teammates were thankful. "We thought when he went to Colorado and got the surgery, it might have been the best thing to avoid distractions," [then-teammate Johnny] Damon said. "We'd get him a month into the season, and it probably was the best thing. Granted, we didn't play our very best. But for his sake and for our sake, we were able to concentrate and focus on baseball."
This is exactly what A-Rod needs to do right now. He needs to make himself scarce. Then, when he comes back, he needs to hit a bunch of home runs. But not for a while. He needs to stay away from the TV, stay away from the Yankees — stay away from everything other than machines that help with rehabbing his hip. We don't want to see him. He should take all the time he needs. Take more than the time he needs.