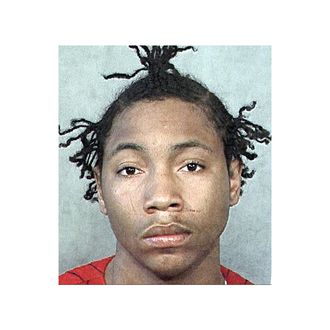 Before Ronell Wilson was convicted of killing two NYPD detectives in a point-blank execution and accused of impregnating a prison guard, he had a plan. "Wilson would plead guilty to a life-sentence deal, in return for the government's dropping its death-penalty prosecution," his former defense attorney told the New York Post. "Wilson advised me that he would take the life deal — as long as he could have conjugal visits — because he was determined to leave this earth with a child of his own, to give his wasted life some meaning." Things have worked out, then, in a weird, twisted way.
Wilson was sentenced to death, but the penalty was overturned, and a new sentence is pending, with claims that Wilson is mentally handicapped (and therefore cannot be executed) and that he cooked up this pregnancy plot to avoid the death penalty both swirling. In the battle of contradictory narratives — defenseless prisoner or evil schemer? — the tabloids have firmly sided with the prosecution: In addition to eight-months-pregnant guard Nancy Gonzalez, who was charged this week for having sex with a prisoner, Wilson was allegedly "wooing three other women" with "romantic" phone calls, according to the Post. The hardest part of that to believe is that three other humans would play along.
Update: A judge ruled this morning that Wilson is not mentally disabled, leaving the door open for a jury to again order a death sentence in his "penalty-phase" retrial.
"After a review of the full record in this case, the court concludes that Wilson has not satisfied his burden of proving that he more likely than not suffers from significantly sub-average intellectual functioning," the federal judge concluded. "The court holds that Wilson is not mentally retarded, and was not mentally retarded at the time of the crime. This does not mean that he will receive — or deserves to receive — the death penalty, but only that any such penalty would not violate the Federal Death Penalty Act or the Eighth Amendment."