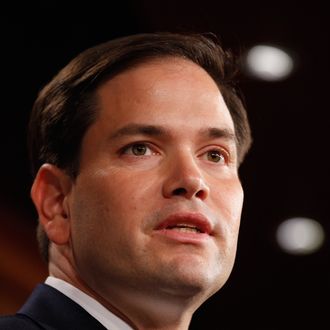 Ready or not, the 2016 presidential cycle is already gearing up, and it seems we already have our first serious candidate: Florida Senator Marco Rubio, who arrived in Israel today. "America's friendship with Israel is a truly special one," he said in a statement announcing his trip. "We must continue to do all we can to support this beacon of democracy, religious freedom and free enterprise in the heart of an unstable region." In addition to the usual photo ops at the Western Wall and the like, Rubio will meet with Israeli President Shimon Peres and Prime Minister Benjamin Netanyahu. He'll also sit down with Palestinian Prime Minister Salam Fayyad and, later in the week, he'll go to Jordan to speak with King Abdullah. While that's a pretty A-list itinerary for a freshman senator — even one with a spot on the Senate's Intelligence and Foreign Relations committees — it's standard stuff for a Republican presidential nominee, or someone trying to make himself look like one. 
A visit to the Holy Land is a hallowed tradition among presidential contenders, and nearly as important as the height-hair-optimism trifecta. Just consider: Mitt Romney visited Israel last year; then-candidate Barack Obama made the trip in in 2008, as did his opponent John McCain, who stopped by a Gaza-adjacent town hit by rocket fire; John Kerry stopped by multiple times before his 2004 run (he's due back soon in his new role as secretary of State); then-Governor George W. Bush paid a visit to Jerusalem in December 1998, just a few months after Vice-President Al Gore was there to celebrate the country's 50th anniversary.
As for Rubio, this will be his second time in Israel, coming just weeks ahead of President Obama's announced visit in March — his first since taking office.